It was always going to be mission impossible for Celtic. Coming into the Juventus Stadium the Scottish side had to make up for allowing three goals at home against a opponent having allowed only three goals twice since manager Antonio Conte took over. Although Juve walked away with it easily, Celtic fans should be proud theirs was the ridiculous task.
Juventus definitely had the better of the chances but that doesn't mean that Celtic didn't put the pressure on. Celtic welcomed back captain, Georgios Samaras, whose return was clearly beneficial. Throughout the game he worked hard to create chances, coming just short a number of times. In one particular instance, Samaras did well to get to the end line before sending the ball across the face of goal and just narrowly missing the on coming teammate. Although Celtic were unable to convert there were a number of opportunities that forced the Juventus defense and Buffon to react.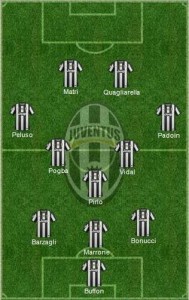 Manager Conte went out with a little bit of a different lineup starting Paul Pogba in the midfield over Marchisio, Simone Padoin on the wing instead of Stephan Lichtsteiner, Luca Marrone in the center back instead of Giorgio Chiellini, and Alessandro Matri and Fabio Quagliarella up top. There is little to complain about on the Juve side. The defense and Gigi Buffon played solid and worked hard to earn that clean sheet. Paul Pogba was fantastic, making strong tackles, and showing some fantastic footwork. Except for a few bad passes and unnecessary yellow card, Frederico Peluso once again played well on the left side. It must be stated once again, he has earned his spot on this team.
Although this lineup may have not been the best, Conte started players he knew would get the job done. Going with Matri and Quagliarella was a safe call as Conte most likely wants to keep Mirko Vucinic, his usual preferred starter, rested for the Sunday match against Catania. Both strikers can be happy with the performance and the pair should be given more chances to start together in the future. Conte also did well to keep Lichtsteiner, Chiellini and Claudio Marchisio out because of injury and yellow card concerns. Overall it may not have been the best starting XI, but Conte knows that he has some depth to turn to when resting players is ideal.
It was a fantastic atmosphere as the Juventus stadium was lively with Juventini, but the tip of the hat goes to the Celtic fans. Prior to the game cameras caught fans of both teams swapping scarves in a sign of sportsmanship and respect. Even when down by 5 on aggregate, the Celtic faithful continued to sing and cheer until the game was finished. It was a beautiful sight as these fans, although upset at not advancing; will surely be happy at how their team played throughout the Champions League. Drawn into a fairly tough group, they shocked many by besting Barcelona 2-1 in Glasgow. They worked hard to earn their first appearance in the knockout stage since 2008. Celtic can look back on this tournament and have much to smile about as they now focus on adding to the team so they can hopefully return to this stage next year.
It may have not been the most hyped match prior by mainstream media, and the result was all but finalized, but both teams played an entertaining match. Juventus now join Real Madrid, Paris Saint-Germain, and Borussia Dortmund as they anxiously await the draw for the quarterfinals, which takes place on March 15th. At this stage it becomes harder to predict who will win it all. Munich and Madrid seem to come to mind first. However there are a number of teams that have shown the quality necessary to win this tournament and Juventus are definitely one of them.