Friday in the San Paolo saw table toppers Juventus take on second place Napoli. In a highly anticipated game, both sides came out to play. In what was one of the most exciting and entertaining games of the year, there was no shortage of chances or controversy, as both sides had to settle for a share of points with the 1-1 draw result.
Much of the anticipation coming into the game was due to the fact Juventus stood six points ahead of Napoli and a win would put the league title nearly out of reach. Coming into the match, Napoli had been without a win for almost a month and only 1 goal within the last four games. Eliminated from the Europa League, and 6 games without a goal from leading goal scorer Edinson Cavani, Napoli were in need of something positive.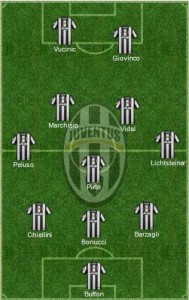 Both teams fielded strong sides with Giorgio Chiellini returning from injury for Juventus. Also in the starting lineup for the Bianconeri was Peluso in replace of Asamoah, who may still be nursing an AFCON hangover. From the beginning of the match both sides were at each other, in what was clearly going to be an intense game, as most of the meetings between these teams have been.
It took only ten minutes before the deadlock was broken. Giorgio Chiellini rose above the defense to head home a brilliant cross from Andrea Pirlo. This is a feature of Chiellini's game that has been desperately missed by Juventus. The rest of the first half played out with both teams having chances but Juve looking the better. However, as well as Juve played in the first half, Napoli drew even with a few minutes to go in the half. Gokhan Inler sent in a screamer from right outside the box that with a little deflection off of Bonucci's head, flew right by an outstretched Buffon. Before the half came to close, controversy strike as Cavani and Chiellini were both shown yellow. The two had been going at it aggressively the whole game and in one instance it appeared that Cavani had thrown an intentional elbow into the face of Chiellini. The ref acknowledged that Cavani was guilty of something but deemed it not severe enough to warrant a red, as the half finished off 1-1.
The second half started with both teams pushing hard once again. Yellow cards were handed rapidly as four of the six total cards were given in the second half. Napoli were able to push momentum in their favor as Buffon was called into action a number of times. Juventus also had their opportunities but on a night where physicality seemed to take precedent, the game seemed destine to end 1-1.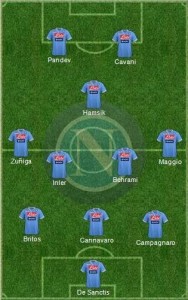 For Napoli this result is something to be happy about. Although most would have wanted a win, with the recent run of form coming back from 1-0 to draw level and keeping the race on the Scudetto very much alive is something to be happy with. Furthermore Napoli fans should rest easy as the next three games are all against bottom half teams, and with no Europe to distract them, a run of positive results could really set the motion a push for the title. While Juve will most likely (emphasis on the most likely) have at least three more Champions League matches this could cause a slip up resulting in Napoli gaining ground. Finally for Napoli fans getting upset at the lack of production from Cavani, don't sweat it too much. Although he's on seven games without scoring, he had his chances today and when you consider how well Chiellini played its not that hard to see why Cavani didn't score.
For Juventus this was a missed opportunity but still a result to be positive with. It would have been great to get all three points and make the race for the title that much more out of reach, but going into a hostile environment and walking away with a point is something to smile about. Juventus are still playing well and barring an absolute collapse, will advance into the quarterfinals of the Champions League, which means the mood will still be high in Torino. The return of Chiellini is great news for all Juventini, as the teams looks so much stronger and surer of themselves with him at the back. Many of Juventus' problems continue, with the strikers disappointing again. At this point all Conte can do is choose two and just be smart enough to make the proper substitutions if it is not working. Also worth noting, is the inclusion of Peluso. He wasn't the biggest fan favorite when he came in, but after another strong performance, any doubters should have little to say.
It was a fierce game and these two teams have shown how they feel about each other. The referee may have gotten some wrong, which puts a dark mark on this match. However this rivalry has proven to be an entertaining one and this match was no different. The scudetto race is still very much alive.