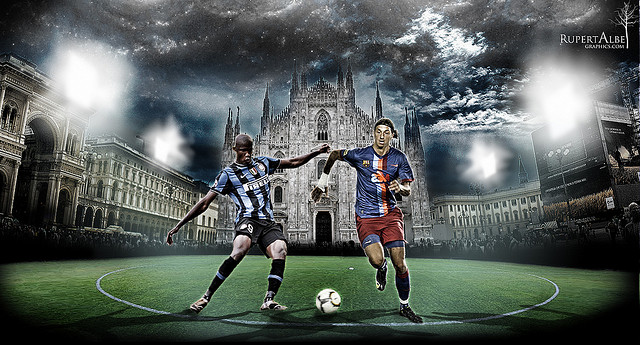 guest writer Richard Hall
Originally the Nerazzurri could not believe it, Zlatan Ibrahimovic had gone but in return they had 46 million Euros and even better they had Samuel Eto'o. Now, half a season since the Cameroonian left for Russia the question is being asked, 'Did Moratti sell the wrong man?'
On arrival at Inter in July 2009 Eto'o said in his first press conference that he did not want to be compared to anybody, he was his own player and he would be judged in this way. This statement was then backed up by a spectacular season under Jose Mourinho in which he guided Inter to the treble. Even though his goal return was poor for his standards, 16 in total, it did not tell the full story as he was constantly put out on the left hand side where he became provider for the prolific Diego Milito. Also he made his name as a 'big game player' scoring in all of the important matches.
His second season saw him take on a more central role and as coaches and players failed to produce and whist the team were dogged by injuries Eto'o dragged the Nerazzurri by the scruff of the neck to a Coppa Italia victory. This season saw him score an incredible 37 goals which was a personal record for the legendary striker. All looked well for the Nerazzurri but as the season approached and with the FIFA's financial fair play scheme coming into play, Inter President Massimo Moratti knew he needed to balance the books. The summer progressed with the usual transfer rumours being banded about but one players name kept emerging. Wesley Sneijder had been linked with a move away from Inter and the writing seemed to be on the wall, especially when Inter's new coach Gian Piero Gasperini was announced.
Gasperini was renowned for playing a 3-4-3 which would mean that the Dutchman would have to play out on the wing instead of the trequartista role that he had had so much success in. This also led many to believe (including Gasperini) that the team would focus around the potent striking power of Samuel Eto'o, however, just before the transfer window ended it was Eto'o himself who departed making a shock transfer to cash rich Russian club Anzhi Makhachkala. As the Inter fans mourned the loss, the new coach was left with a group of players that did not fit his system. The result was inevitable and after a dismal start to the season Gasperini was dismissed.
read more @ Think Football