Diego Milito's quadruple known as a 'poker' against Palermo was a rare moment, in fact it was only the sixth time it's happened in ten years, but with Italy's final friendly before Euro 2012 looming it focused the eyes on the Azzurri's frontline.
The Argentinian's four-step sent him into a comic book group that features 'the little plane', Vincenzo Montella, twinkle-toes Christian Vieri, and 'The Wonder Boy' Alexis Sanchez. The sextuplet is completed by Alberto Gilardino, who should be nicknamed the 'Gila Monster', and Cristiano Lucarelli, perhaps the reddest Amaranto in history, who both scored four in Parma's 6-4 win over Livorno in May 2005.
The haul boosted Il Principe's season tally to 12, level with Edinson Cavani and German Denis, but still 3 shy of Zlatan Ibrahimovic and 4 behind Antonio Di Natale. The last man to hit a quattro was Alexis Sanchez, coincidentally also against Palermo in Udinese's 7-0 win at the Renzo Barbera,but his former strike partner is cutting a lonely figure at the top surrounded as he is by foreign strikers.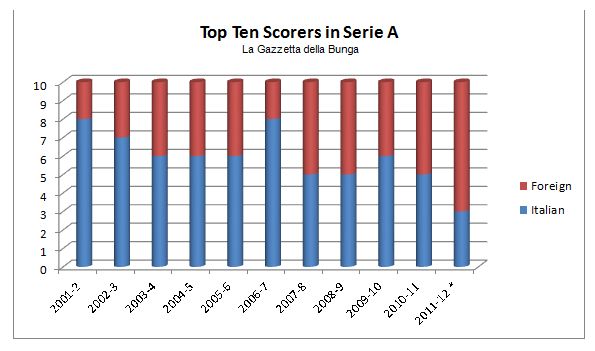 The year Montella battered Lazio, 2002, David Trezeguet was joint capocannoniere with Dario Hubner on 24 strikes as eight Italians filled the top ten scorers. The following season in 2003, when Bobo bashed four past Brescia he danced his way to the summit, also with 24 goals, alongside seven of his countrymen.
The spike in 2006-7 is perhaps anomalous because it was after the Calciopoli scandal when Juventus were relegated and the league was in disarray, however, it's not clear how points deductions would make foreign forwards less capable in front of goal.
From the receding blue wave it's fair to deduce there has been a steady decline in Italians prominence in the top scoring chart, and after half of the2011-12 season only three, Di Natale (1) Fabrizio Miccoli (9) and Emanuele Calaio (10=) bookend the seven forwards born outside the bel paese.
The foreign invasion is of course not limited to Italy, as Germany, England and Spain show increasing contributions from the non-native, yet it's interesting to observe the stranieri have scored 266 of the 519 goals in Serie A up to matchday 21.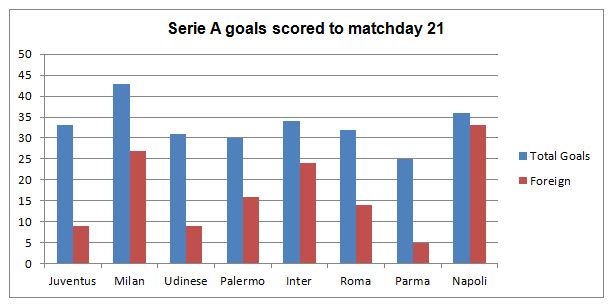 Looking at the top teams there's no big surprises with Juventus' strong Italian policy resulting in Matri, Claudio Marchisio and Simone Pepe combining for 20 of the Bianconeri's 33 goals.
How Max Allegri has squeezed 7 out of Antonio Nocerino, his best total as a professional, is still being assessed, but the former Palermo man is the only Italian to make any decent contribution to the Rossoneri's tally of 43.
Most of the Azzurri's potential goals for Euro 2012 reside in these teams, but on current records it is only potential. Matri has one international goal in four appearances, Sebastian Giovinco 0, Giampaolo Pazzini has notched 4 in 23 while Di Natale's inclusion is amazingly still precarious despite scoring 43 goals in 56 league games since the 2010 World Cup, also the last time he played for Italy.
A further problem for Cesare Prandelli in terms of experience is the absence of Antonio Cassano after heart surgery in November. The Milan striker top scored with 6 of Italy's 20 goals and was the only forward to start all ten qualifying games for Poland and Ukraine, and though some reports suggest a return to training it seems impossible he'll line up in the summer. Pablo Osvaldo and Giuseppe Rossi are in the midst of long term injuries, while Alberto Gilardino with 17  goals, has played only 59 minutes for the Azzurri since South Africa.
A lot of hope will fall on the shoulders of Mario Balotelli who's had the most entertaining season of his career, including 9 goals for Manchester City. Described as enigmatic, malicious, a genius and out of control, often in a single game, the 21 year-old needs to quadruple his solitary effort if Italy have any hope of looking dangerous in Group C.
While the 1968 winners were one of eight teams to score twenty goals or more in qualifying for the tournament, success hinged on its defence, conceding only 2, the fewest of any team. One line of hope is the Juventus contingent bring their form and familiarity, fresh from winning the scudetto into the national team, with Andrea Pirlo continuing his swansong on the big stage. It's clear, at least statistically, the available strike force is inexperienced and desperately short on goals, so Prandelli will utilize defensive solidity and hope one of his attackers can prove Italians still have what it takes to score on the international stage.
The hope is through greater fiscal responsibility, or restriction, clubs' will be forced  to put more resources into the next generation, instead of purchasing foreign talent so future coaches of the Azzurri have a greater and deeper pool of strikers to choose from.