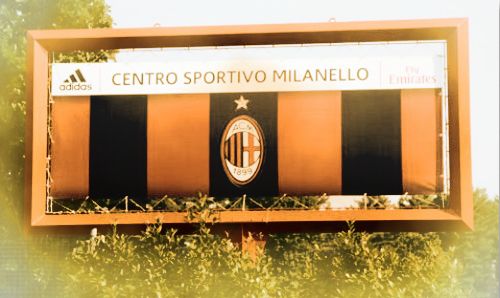 Health scares, multi-million pound on-off deals and the toppling of a prime minister. It has the makings of a political thriller that any dramatist would be proud off. Instead, it has been the script of Massimiliano Allegri's awkward second season in charge of Milan.
It is easy to forget just how rocky the waters have been in the background to his attempts to build on the foundations of a debut year Scudetto. The champagne had hardly dried on the carpets in the Rossoneri trophy room when planning was under way for better things. This is a club where domestic success is always seen as just an appetiser for European glory.
Yet the turbulence which has hit this particular flight has been of the kind which might have had many passengers saying their prayers. First there were Rino Gattuso's vision problems, then Antonio Cassano suffered a health scare which left him needing heart surgery. And all the while club owner Silvio Berlusconi was slowly but surely being ousted from his role in running the country.
As if that were not enough to contend with, January brought two transfer torments in the Milanista attack. It looked like Carlitos Tevez would be brought in while Alexandre Pato was shipped out to Paris Saint Germain. But, if that was the plan, it ended up further off course than a Robinho attempt on goal from point-blank range.
All this, of course, might have been fine if the club had been cruising serenely on the waters of Serie A. But, instead, the new year has brought some worrying glitches. The little-guys are all still being dismissed with a certain nonchalance, but the trickier ties have proved a major stumbling block.
First the Derby della Madonnina went Inter's way. Then, when rivals Juve were frozen out of action, they lost out to Lazio. A draw with Napoli and Coppa Italia defeat to Juve completed a less than magnificent month of results. The Scudetto is still well within reach, of course, but a suspension for Zlatan Ibrahimovic for a slap in the Napoli match did nothing to assist that cause.
It took an extraordinary late turnaround to see off Udinese at the weekend. Prior to goals from Maxi Lopez and Stephan El Shaarawy, the Rossoneri had looked out of sorts and out of ideas. Their victory was either the hallmark of true champions or the final flicker from a fire that is about to be extinguished.
All of which, heaps more pressure on the double-header with Arsenal. There has been something missing from Milan's performances of late which they will need to hope the Champions League theme tune can bring back. Otherwise, they have sometimes looked a shadow of themselves.
At the club, of course, they have been here before. The Rossoneri have developed a happy habit of pulling a result out of the hat in Europe to keep their supporters happy. Allegri will know that it needs full focus to overcome his English opponents - even if Arsene Wenger's men have not been without troubles of their own.
Only in that way could he make missing out on the Scudetto to Juventus a more palatable prospect to the fans. Look, he could say, we are performing on the continental stage once more while the Bianconeri sit and watch us on TV. It would all be made the more sweet by the continuing travails at Inter.
But the situation sits on a knife-edge. Allegri has just signed a new contract with the club but that comes with a certain level of expectation. It might be just about acceptable to go out of Europe if another Scudetto comes along. Or, alternatively, a runners-up spot in Serie A could be tolerated if the Rossoneri made it to the very latest stages of the Champions League. However, failure to deliver something on one of the two fronts is not an option.
To the outsider, of course, it makes for compelling viewing. Ravaged by injuries throughout the side, Milan still carry a proud reputation both in Italy and on the continent. Sometimes you get the feeling, like an old boxer, they keep coming forward on pride and instinct alone. How long before somebody catches them with their defences down?
Only a fool, however, would write them off both at home and abroad. They are not the all-conquering and awe-inspiring force they once were in the game but they can still raise their play for a key match. It will be a mark of Allegri's progress as a manager if he can secure safe passage to the quarter-finals of the Champions League while keeping his team in the hunt for another tilt at the domestic title.
What would make it an even greater achievement is the adversity in which it would have been realised. All of the most illustrious Milan managers of recent times have managed to deliver honours in both Italy and beyond. If their current coach secures more silverware this season he will start to be mentioned in the same breath as some true legends. And, by the end of his career, he might more than deserve to rub shoulders with the likes of Arrigo Sacchi, Fabio Capello and Carlo Ancelotti in the Rossoneri's Hall of Fame.