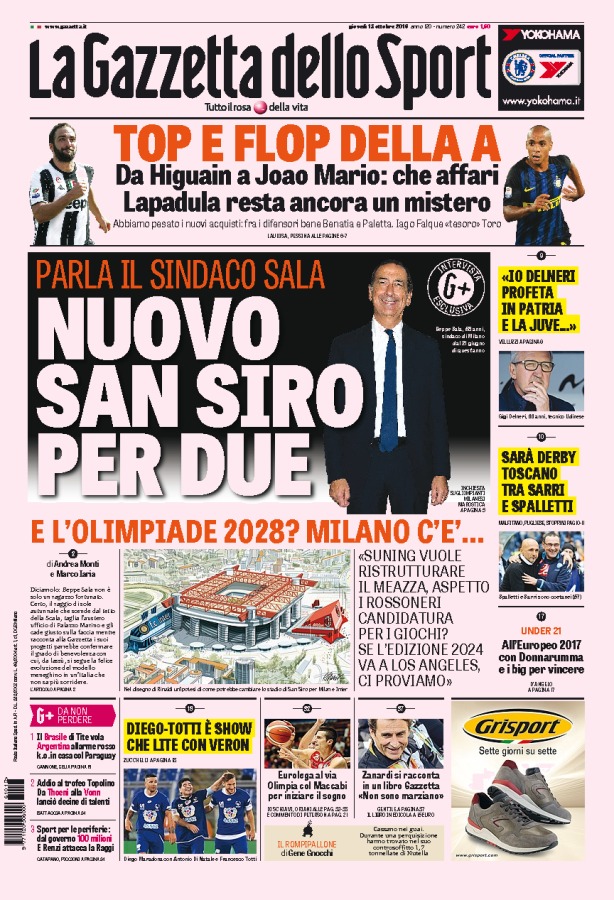 Gazzetta dello Sport
Go Inter, but Genoa fan in serious condition
before Coppa match a 38-year-old (drunk?) fell to the ground hitting his head after scuffle with police officer. He is at the Policlinico in serious condition.
Mercato news: Moratti has thoughts of M'Villa, Lucas or Romulo
Pato, out for a month, Maxi Lopez steps up
Juve – Guarin in 48 hours or there is Caceres as the alternative
Tuttosport
Nainggolan+Caceres
They are the players that Conte has asked for to strengthen his Juve. Blitz bianconero in Sevilla. And Marotta met with Guarin's agent.
For the coach the priority is to have another midfielder. But the Uruguayan is considered key for the defence. Amauri to Florence on Monday, Toni close to Siena. Heading towards a sellout for the Coppa match against Roma.
Bianconero blitz to Sevilla. Marotta has seen Guarin's agent
Maicon-Poli and Inter fly
Milan: with Pato injured, Maxi is back
Now Cesena dream of Bianchi
Tevez to PSG: is no meeting
Alvarez says yes to Ventura, the latest is Jorquera emerges
Juan Jesus for Novara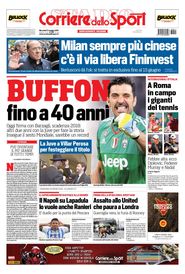 Corriere dello Sport
Inter, goals and signings
Maicon and Poli: 2-1 against the Rossoblu
Kucka and Lucas set to arrive
Branca: "Tevez, why not?"
Pato out for a month, Milan: Maxi Lopez
Lazio in Moscow for Honda
Napoli, Mazzarri like Ferguson? The Coach is ready
Stop Guarin, Juve chase Caceres