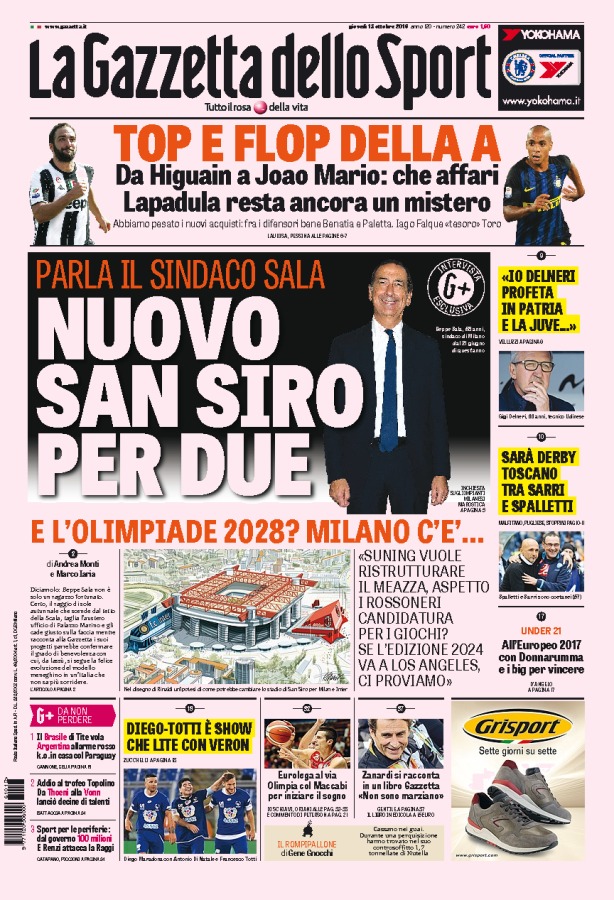 Gazzetta dello Sport
Tevez comes to the table
Galliani dines with the Argentine in Rio and has a yes
Then he makes an 'original' offer to the English
But Inter try the overtake and offer more to City
United think about Wes again, Leo on Maicon
Ferguson is ready to offer 30 million for Sneijder. And PSG are interested in the Brazilian
De Rossi, Roma's true rival is Mancini
Vazquez to Palermo, he made River cry
Zaccheroni: "Conte can beat Ibra. Watch out for Udinese"
Juve find Del Piero-goal again
Tuttosport

7 goals in Arabia - 7 days for Caceres
Ventura wants to breakaway: "Let's take off like a rocket"
Milan press for Tevez
Adriano Galliani meets with Manchester City star to stop the attempts by Inter.
Inzaghi is staying. Rossoneri also looking at De Rossi.
Del Piero double
Fiorentina chaos, fans furious
Gilardino: "Light back on"
Catania: Brazilian Ilsinho on his way
Cesena after new boys: Alvarez
PSG want Maicon, United chase Sneijder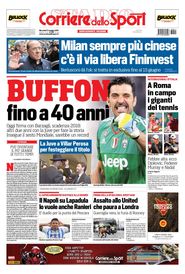 Corriere dello Sport
Inter have hand on Tevez!
Here is Vargas: Napoli, I love you
Chilean arrives at Fiumicino last night and was met by a 100 fans: "I am happy, I can't wait to start, I have a great opportunity and I will give my best".
Del Piero starts the year with two goals
Casemiro, Lazio now emerge. What a derby with Roma
Fiorentina under fire: Clash between players and fans
B starts again: Zeman at Nocera
There is Gubbio-Bari
Pizarro to Juve, now we are there