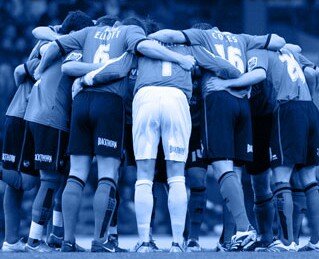 Interazionale sprung a big surprise on Sunday night to claim their biggest win of the season with a 1-0 victory in the Milan derby. Both teams entered the fixture in fine form (Milan were unbeaten in 12, Inter had won five in-a-row), but it was the Nerazzurri who prevailed after one of the season's great stifling performances.
Wesley Sneijder returned to the match-day squad for the first time since early November, giving Inter a clean bill of health save for Dejan Stankovic and the Africa Cup of Nations-bound Sulley Muntari. Milan, meanwhile, were missing Alberto Aquilani, Rino Gattuso, Antonio Cassano, Mathieu Flamini and Taye Taiwo.
Not the most exciting Derby della Madonnina of all-time, Sunday's game was nonetheless a tactically intriguing. Milan set-out in their standard 4-3-1-2 formation with Pato restored up-front and Kevin-Prince Boateng dropping into the midfield three. Claudio Ranieri's veteran XI lined-up in a 4-4-2 with Javier Zanetti playing on the right wing for the fifth time this season.
Both sides played incredibly rigid systems and shapes that cancelled each other out. This gave the midfielders little room to operate in and put a premium on individual ingenuity, but there were a couple of exceptions. Thiago Motta's headed goal was well-taken but rightly flagged offside in the fifth minute and an unmarked Boateng thundered one over minutes later, but concrete chances were few and far between.
The first-half closed with Ricky Alvarez fluffing his lines from six yards and Mark Van Bommel hitting the woodwork from 18 yards. Inter struck shortly after the restart when Zanetti's through-ball found Diego Milito who slotted home from an acute angle for his third goal in as many games.
Sneijder came off the bench but Inter faded as the game progressed. Milan strangled Inter's possession and created a few chances that Pato, Robinho and Clarence Seedorf could not finish. Allegri's men failed to impose themselves on Inter despite the possession disparity (Milan 66%, Inter 34%). They had plenty of shots (16) but botched their few genuine chances and, for that reason, deserved little from the game.
Allegri produced a tactical surprise by playing Urby Emanuelson as the trequartista and pushing Boateng deeper. Emanuelson coped reasonbly well and had more touches (108) than anyone else on the field, but often found himself having to drop deeper which completely negated his strengths.
Boateng, meanwhile, had a poor game. What makes him such an effective trequartista is his drive and ability to charge at defences with the ferocity of a raging bull. Inter's tight formation and constant pressure from Esteban Cambiasso starved him of the space he needs to be a real threat. Clearly better in an advanced role, perhaps Milan would have been better off with Seedorf in midfield and Boateng in his usual role.
Alessandro Nesta, Gianluca Zambrotta and Ignazio Abate had poor games in Milan's back-line, while Pato and Zlatan Ibrahimovic were almost anonymous up front. This was a rare off-colour Milan performance , but one that was forced by Ranieri's exceptional game plan.
Milan's strengths lie in their solid core and fantastically talented front-line. Ranieri was able to counter this by choking their midfield supply line out of the game and playing Zanetti as a deeper right midfielder to completely nullify Inter's left flank. Abate was left alone on Milan's right and had a torrid evening dealing with Alvarez and especially Yuto Nagatomo, who looks more and more indispensable with every passing game.
Ibrahimovic and Pato have never quite clicked as a partnership and Inter no doubt benefited from this, but the Nerazzurri back-line were excellent throughout. Walter Samuel and Lucio, two aging players apparently destined for the scrapheap, were rock solid. The latter has had a particularly outstanding season and looks like he can continue to be a key performer despite his advancing years (Lucio is 33).
Inter have much to be proud of. Ranieri was happy to concede the battle for possession and rely on counter-attacks, and he got his tactics spot on. Alvarez, Nagatomo and Maicon provide pace and guile on the wings, while Milito is slowly returning to his best up front. Thiago Motta's return has improved their midfield immensely, and the backline looks a million miles from the shoddy mess left behind by Gian Piero Gasperini.
The squad is far from perfect, but Ranieri has forced a functional, balanced XI from this group of individuals. There are still numerous personnel issues and lord knows where Sneijder will fit-in when 100% fit, but Inter, for now, look as good as any team in Serie A.
The Nerazzurri are well and truly back. This was the most significant fixture of the season, and one that blows the Scudetto race wide open. Inter's six wins on the trot has seen them rise to fifth in the league, and they're now just six points off the top of the table after Juventus and Udinese dropped points last weekend.
Ranieri's a man who excels with his back against the wall, as shown by his spells in-charge at Roma and Chelsea. He found himself in the same scenario upon joining Inter and should be commended for the work he's done. It was a slow, difficult start, but Inter are back on track mostly because of the Tinkerman's work, and they should continue their upwards projection if the coach's propensity for rotation doesn't get in the way.
Even Inter haters must admit that this makes the Scudetto race a whole lot more interesting. Five teams are in the hunt, and it could go down to the wire. Juventus and Milan will remain favourites, but don't count Inter out. Victory against Lazio this week will see them go fourth, and they'll be even stronger if Ranieri can get the best from Sneijder.