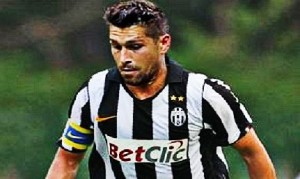 While Juventus are off training in the sun of the Arabian Peninsula, the front office is hard at work as the winter transfer window opens. As always, in Italy, the rumors are flying forth from the media, and while some names are pure speculation, there are a few players who will most likely be playing in Torino in the next weeks. Former Roma striker Marco Borriello has already landed in Torino.
It was announced on Monday that Juve landed the striker on loan for 500,000 Euros with an option to buy. Ask any Juventus fan and they will tell you that this move is puzzling as Juventus do not need any more strikers nor do they want a striker like Borriello. For many the former Milan man will be too similar to a number of other strikers. His inability to create for himself makes him very similar to players signed in the past only to end up watching the games from the sidelines.
The club is currently sitting on a plethora of strikers/forwards. Alessandro Matri, Mirko Vucinic, Alessandro Del Piero, Simone Pepe, and Fabio Quagliarella have each been given time to shine up front, with some getting more looks than others. On top of that, Conte also has Vicenzo Iaquinta, Luca Toni, and Amauri, none of which have made an appearance this season. Many fear that the Borriello signing will end up the same as Amauri or Toni. Looking at his numbers, Marco may not be as bad as he seems. In his last four seasons, excluding current campaign, he has scored over ten goals three times, while the fourth season saw him plagued by injury problems. His best season came five years ago when he scored 19 goals in the league and he has decreased his league totals since then. This season he made only 7 appearances for Luis Enrique, starting only twice and failing to score. What makes this move evne more puzzling is that Borriello is most likely not a long time solution and, at 29, he is older than Matri, Vucinic, Pepe, and Quagliarella. It would be wrong to immediately label him as a failure for the Bianconeri but coming in halfway through the season onto a team that has a surplus of strikers does not bode well for Borriello. He will not be featured immediately as Conte will want him to get familiar with his tactics. However 500,000 is not a tremendous amount and there is the chance he actually succeeds in the black and white. Last year he scored 11 goals in the league and 5 in Europe, so it may not be a bad thing to have him around especially if any injuries should pop up.
Among other names being linked to Juventus are Uruguayn defender Martin Caceres who played for the Bianconeri during the 2009-2010 campaign. Belonging to Barcelona and currently on loan to Seville, Caceres is a versatile defender who can play anywhere in the back. This move makes more sense for the Conte's strategy as he could help reassure the defense, which is stretched thin at times. Naturally a central defender he would probably be used on the right so Chiellini could move to his more natural position in the center.
While Juventus' needs are few, Marrotta would be wise to use this transfer window as an opportunity to get rid of some excess players. There has been a lot of talk of the departure of Amauri. The Brazilian striker is clearly not in Conte's plan and will not make an appearance this season in Torino so it is for the best of both sides if he is sold to someone who would take him. A few other players that should be allowed to leave are Luca Toni and Marco Motta, neither which seem to have any chance of playing this season. If Caceres does join than Motta will not see any playing time as Sorensen, De Ceglie, and even Grosso would be used to play outside back before the former Roma man. Of course there is a big question mark about the future of Serbian winger Milos Krasic. An extremely talented player, Milos has fallen out of favor with Antonio Conte and has found it difficult to earn playing minutes. There has been a lot of discussion throughout the first half about Krasic's departure and the current top suitor seems to be Chelsea. Although this is speculation, there is no doubt that a player of his caliber will not want to remain on the bench for long and a winter transfer could be a possibility. His future at Juventus hangs in the balance as the transfer period is just getting started.
It may not be the busiest transfer window as Juve's problems are very little. Only time can tell whether Borriello will pan out or fall in besides the various other failed signings of the past few years. Juve should make it a priority to only sign players that will prove their value. Last year they signed Barzagli for under 1 mil and he has been more than worth it, but Marotta would be wise to avoid spending a few million on any one player as spending is not a necessity for this Juventus side. Juventus are in first place and will most likely continue to fight for the Scudetto, while guaranteeing a spot in next year's Champions League. The summer will be the time to go out and buy players but for right now, there are only a few additions needed.