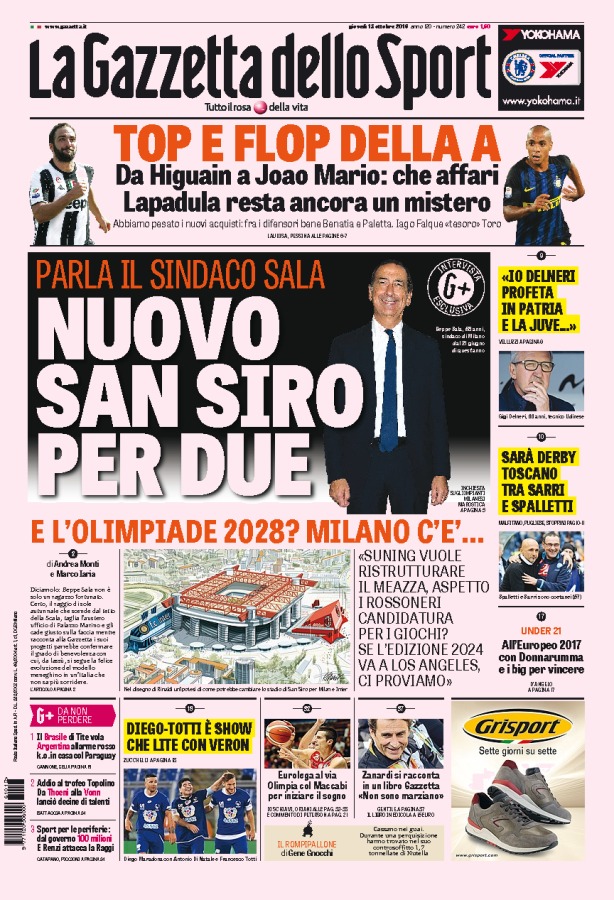 Gazzetta dello Sport

Milan assist for Juve

The Rossoneri are stumped (2-0) by Bologna. Di Vaio and Diamanti are goalscorers. Antonio Conte's team take on Roma in Rome at the stadio Olimpico tonight. The Bianconeri could move four points ahead of their rivals. Luis Enrique hangs in the balance: "Resignation? Never say never".

Referee Rocchi gets it wrong, then apologizes

He does not call three clear penalties. Pioli: "Just a bad day, it can happen". Allegri: "Ibra took a dive".
Crazy Di Natale, Udinese take flight
Dzemaili-Goal but only a draw / What a lovely Novara
Napoli manager Mazzarri's team now nine points off the leader.
Let's find Faraoni - the youthful Nerazzurro isn't afraid of San Siro
Barca in Japan for the world club cup.
Depressed Real (Madrid)
Tuttosport
The biggest head-to-head after the weekend
20:45 Roma-Juve Today!
Luis Enrique: "The match against Juventus will be extremely difficult. Borriello? Never say never…"
Antonio Conte: "No one should be upset with my players: they are like blood-brothers to me. Roma will try to take control of the match. Luis Enrique? To have coaches like him….". Estigarribia is favoured to replace Vucinic.
Milan, draw and questions. Bologna furious
Rocchi awards penalty (scored by Ibrahimovic), ignores three other incidents and frustrates everyone else. final score 2-2, but so many errors.
Di Natale top marks, Udinese are flying high
Chievo are beaten (2-1). Toto is on Messi's beat. Guidolin, "a magical moment, let's continue"
Radovanovic illusion for Novara, Napoli salvage point for themselves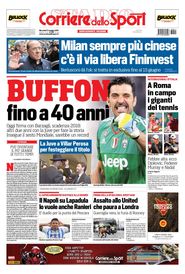 Corriere dello Sport
Milan, stop the venom
At Bologna all ends 2-2: Rocchi gets it all wrong , Emiliani furious. And Udinese soar to top, alone.
Napoli, just a point
Roma-Juve is worth everything. Totti and Pirlo are back!
Catania are caught and draw Atalanta in Bergamo.
Cagliari stopped at home against Parma