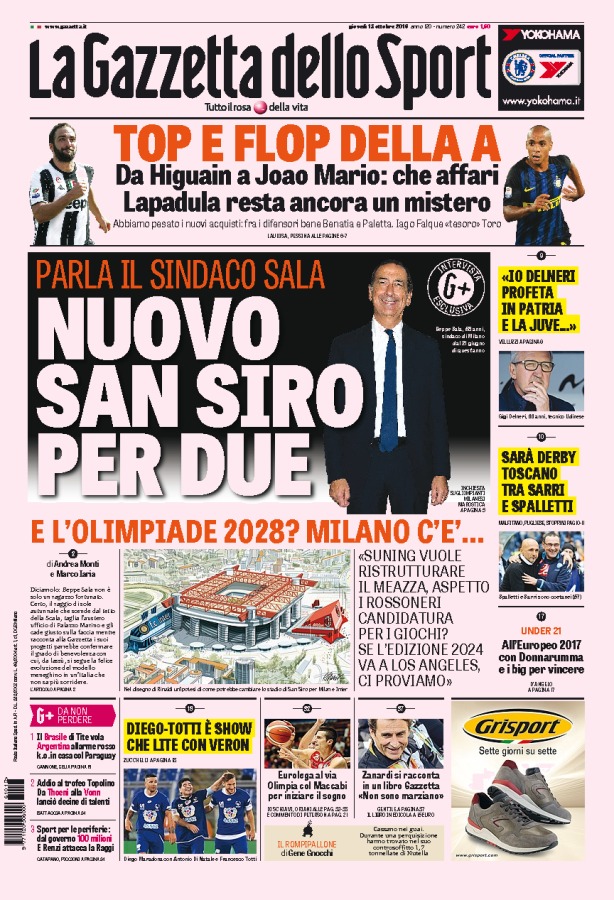 Gazzetta dello Sport
Euro Pazzo
Pazzini goal: Italy qualify for Euro 2012. And what a Balotelli!
Spain are OK
Capello almost
Trap draw
Cavani: "Mazzarri, a Scudetto man"
Juve, a show to baptise the new stadium
Tuttosport
Cairo: "Ogbonna, the new contract is ready"
"It's a great stadium. Now a great Juve is needed"
Lippi: "I remember the emotions at the Nou Camp, and I returned to Berlin alone to relive the World Cup moments". Practice for tomorrow's party took place yesterday.
Pazzo goal with Balotelli takes Italy to Euro 2012
Inter, Lucas move
Juan for January
Corriere dello Sport
Super Cavani
Napoli striker speaks
"We are aiming for everything, we are not setting any limit for ourselves. The fans will drive us forward in the championship and the Champions League".
Juve jewel
Pazzini gifts us Euro Qualification
Italy through to the final stages of the 2012 tournament with two matches remaining. The match winner was scored with 5 minutes remaining. Prandelli: "It is a testament to our courage".
Football gives €35m in tax
Borini and Gabbiadini (2) goals. Ferrara wins in Hungary