Last year's campaign saw Roma possess the second worst defensive record of Serie A's top twelve teams - and worryingly, an inferior concession rate to all but one of the three sides demoted to Serie B. Therefore and understandably, Luis Enrique made buying a keeper his priority and finally secured the services of Dutch giant Maarten Stekelenburg.
So will a little Dutch courage help shore up Roma's porous backline?
It is fair comment to suggest that the Giallorossi have struggled to find a dependable goalkeeping option, having hopped between options for a few seasons. Seemingly, each keeper, whether it's Doni, Juilo Sergio or Bogdan Labont have all had an Achilles heel, and for Roma to mount a credible scudetto challenge, finding the right the man for between the posts is a hugely critical task.
If Romanisti are looking towards pedigree, Stekelenburg's curriculum vitae is worthy of note. While no longer a hotbed of teams to dominate Europe, Holland's Eredivisie, and particularly Ajax, remains a highly revered developmental base for players who progress to successfully infiltrate the higher echelons of European football.
Marco Van Basten, Denis Bergkamp and maybe more relevantly Wesley Sneijder have all graduated from Ajax's storied academy, and Romanisti will pray that Maarten Stekelenburg can replicate his predecessors success after a decade with the current Eredivisie champions.
After a helping the Dutch national team to last year's World Cup final - making to a string of significant saves throughout the tournament, it is patently clear that Roma have acquired a keeper of some repute, and at €6 million, somewhat of a bargain - certainly when compared to David De Gea, whose move to Manchester United cost three times what Stekelenburg cost Mr. Thomas Di Benedetto.
In fact, and to further validate Stekelenburg's credentials, the reigning English Premiership champions previously courted his services.  Dutchman Rene Meulensteen, one of Sir Alex Ferguson's key lieutenants, openly praised his fellow countryman and in January 2011 admitted that Roma's new keeper was on a shortlist of three candidates to replace Edwin van der Sar – unsurprisingly, yet another representative from the abundant talent pool that is the Netherlands.
But what are Roma actually getting for their €6 million?
At a fraction under 6'6" tall, Stekelenburg is a physically imposing figure. Despite his impressive stature, he boasts agility to contradict his size and is highly capable of making saves at a variety of heights. Unfortunately for Stekelenburg, this week's European debut for Roma saw him fail to get down to a short-range header, but like all keepers, he is entitled to the odd error, and thankfully for Roma's tifosi, such instances are not only few and far between, but Stekelenburg seemingly has the character to transcend the odd faux pas.
Speaking of character, the one trait consistent among all great goalkeepers is that of presence – and in this regard, Stekelenburg's character compliments his physicality. Although affable and softly spoken away from the pitch, Roma's Dutch international is fiercely passionate and vociferously vocal once over the white line. Study footage of Maarten in action and you will see a commanding, authoritative keeper who will chide his backline and celebrate passionately when his forwards do their job – and appropriately for Rome, a 'heart on sleeve' persona is nearly always embraced (as Jeremy Menez may well testify, albeit for somewhat different reasons).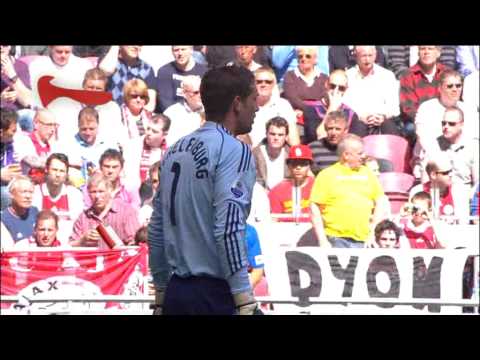 Ultimately, Roma have almost certainly secured a keeper with the capabilities of enhancing Roma's scudetto pretensions, but the biggest issue, as Marco Cassetti recently hinted towards, is not the keeper, but the steadfastness of those men in front of Stekelenburg.
Cassetti revealed that playing with his new teammate is a pleasure but also added that doubts remain over Roma's defensive unit as a whole. While Enrique has added dynamic full-backs to Roma's rearguard, question marks remain over a central defensive partnership missing Philippe Mexes and containing the worryingly inconsistent Juan.
Thus, if there is cause for concern, it is the need for effective communication between Stekelenburg and a backline which will need marshaling. The Dutchman needs to learn Italian quickly and hope that Jose Angel, Gabriele Heinze and Loic Nego do likewise. As David De Gea has recently proved for Manchester United, an inability to communicate effectively can cause hesitation and uncertainty, which a dynamic Roma can ill afford to display, especially if they are to mount an earnest assault on Milan's crown.
Technically, Stekelenburg has all the attributes required to genuinely elevate Roma's ascendancy, but whether he and his defensive teammates will immediately gel remains to be seen - all things considered however, this is the only reservation where Maarten Stelekenburg is concerned - and at €6 million, he may well prove to be Enrique's most prudent buy.