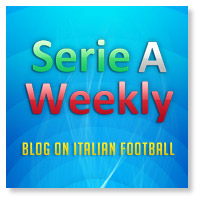 Episode 18 welcomes guest writer Rocco Cammisola to the show and a return to the podcast analyst position of Adam Digby. Part I focus starts with banter on the success of AC Milan as scudetti number 18 arrives at the San Siro.
Give the show a listen and leave your comments below also make sure to follow us at SerieAWeekly on twitter
Additional topics include,
Top Four place just out of reach for Lazio maybe next season
Juventus and Roma not up to it
the demise of Sampdoria yet again, hello Serie B!
Udinese are you up to the task of UEFA Champions League?
People of interest include Ledesma, Delneri, and the three Pees of Pozzi, Palombo and Pirlo!
Listeners can follow our guest Rocco on twitter @rcammisola
Note - this episode was recorded prior to the mid-week Andrea Pirlo news release by player of his imminent summer exit from champions Milan. And to honor Pirlo's time in the red and black of Milan, the following video is a compilation of his finer moments.