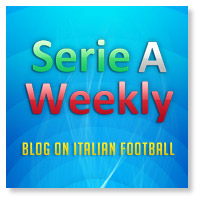 Lorenzo Vicini and Julian De Martinis make a return to discuss Palermo and Roma plus talk on the Milan Derby and the Battle of fourth and fifth between Lazio and Udinese. Oops almost for Glorious Cavani and the Partenopei.
Given us a listen and leave comments for Kevin and Adam
Topics include,
Milan Derby all Milan
Phillipe Mexes injured but bags packed perhaps
Pato loves everyone
Udinese and Palermo step back
no more Cosmi caps in Sicily with return of Delio
Players of interest include, Alex Pato, Philippe Mexes, Giampaolo Pazzini, Edison Cavani, Marco Storari, Wesley Sneijder, and Fabio Grosso!