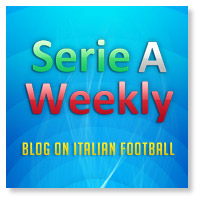 Adam and Kevin return in episode 10.2 joined by guest John Molinaro.
Mr. Molinaro writes on the beautiful game for the Canadian Broadcasting Corporation and served as senior editor of CBC's 2007 FIFA U-20 World Cup website. He has been the driving force behind coverage of FIFA World Cup events at the network.
This weeks topics include a breakdown of 1-0 victories by middle table clubs, while the traditional Serie A top three scratch out draw results. Segment one has all tongues wagging on the Rome derby with part two asking questions of Juventus and finally title contenders are discussed during the closing moments.
While listening to the show please take time to look over the wonderful work John does at CBC.ca on his blog page
You can also find Mr. Molinaro on twitter @JohnMolinaro