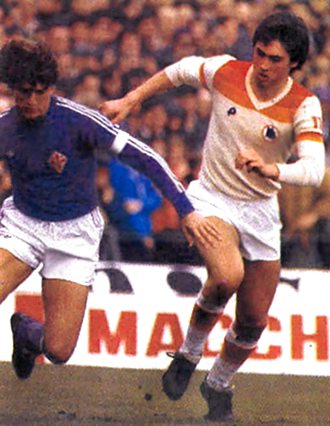 Serie A Weekly is proud to present another new feature that will be here every Friday. Beautifully written by well known and respected journalist Giancarlo Rinaldi it will look back into the annals of Calcio history and every week bring to life a game that many will not remember but that most cannot forget. Filled with great stories and wonderful anecdotes be sure not to miss it.
How Carletto's clanger put Roma's second Scudetto at risk
It is not the kind of moment a coach draws to his players' attention. So the chances are Carlo Ancelotti has never troubled a Chelsea team talk with any mention of a goal he scored in front of the Curva Fiesole in Florence nearly 30 years ago. It was one of his most perfect finishes in an illustrious Roma career before moving to Milan. The only trouble was, it was scored past his own goalkeeper.
The unfortunate header from Il Bimbo (the kid) was the final act of one of the best ever clashes dished up between Fiorentina and Roma. In the glorious sunshine of late March 1983, two of the finest sides the two cities had ever produced took to the pitch under the watchful eye of referee Luigi Agnolin. The Viola had been pipped by Juventus for the Scudetto the season before, while their visitors were already three points clear at the top of the Serie A table with just six games to play.
Yet the match started off badly for the thousands of Romanisti packed into the Curva Ferrovia. The fixture was barely 10 minutes old when Fiorentina's greatest ever impresario, Giancarlo Antognoni, produced yet another a virtuoso moment. A sweet, defence-splitting pass sat up begging to be hit by somebody. Young striker Daniele Massaro, who would be canonised by Milan fans for his goalscoring abilities, showed no hesitation to thump the ball home.
"I amazed even myself," he admitted later. "Because my left is not really my good foot.  But fortunately I hit it cleanly and with the right swerve and I think it surprised the goalkeeper."
If Roma were unsettled by the strike, they did not show it. Playing with the confidence of a team that knew it was something special, they shrugged off their disadvantage like a minor inconvenience. Within eight minutes the scores were level.
It was another 1982 World Cup winner who was the creator as Bruno Conti showed amazing vision and speed of thought to rip open the home defence. A thumping long pass picked out in-form hitman Roberto Pruzzo and he did the rest. With a defender still to beat, he turned his man with style and sent a low rasping shot past Giovanni Galli. There was still more than 70 minutes to find a winner.
Yet Giancarlo De Sisti's side would not capitulate to a Nils Leidholm team which was clearly on a mission. They traded blow for blow as Paulo Roberto Falcao expertly prompted Roma but Antognoni threatened to send Massaro or Ciccio Graziani through on goal. It was a captivating affair.
It looked to have been decided, like so many Serie A matches, by a referee's decision midway through the second half. A bit of wrestling on the wonderfully named Odoacre Chierico (a Roman born and bred) resulted in the award of a penalty kick which Austrian import Herbert Prohaska duly converted. With second-placed Juventus in the process of throwing away a two-goal lead in a tasty Turin derby, it looked like Roma could just about crack open the title champagne with five games remaining after this one and a five-point advantage in the bag. However, that was when the normally solid Ancelotti intervened.
Fiorentina pressed on the accelerator again and pushed forward in search of a goal which would keep alive their own dreams of European football at the end of the season. Once again it was Antognoni who would prove to be the instigator, although this time in the most bizarre fashion. He scooped a high up-and-under into the penalty area in the hope of finding a friendly Viola head. Instead, it was the Roma midfielder who rose above a pack of players to try to nod the ball to safety.
He could only watch helplessly as what should have been a defensive clearance plopped over his own goalkeeper and into the net. It meant that the game was back in the balance and probably the league title too. Suddenly the doubts started to emerge in a team where none of the players was old enough to recall Roma's last successful tilt at the top honour.
There were still 20 minutes to play in Florence but no more goals were forthcoming. Both sides had entertained but ultimately come away with a point less than they had hoped for. Liedholm appeared to be resigned to his side's lack of maturity in a post-match interview. Or perhaps he was simply trying to give his players a verbal boot to the posterior.
"It looks like we are scared of winning," he told a touchline reporter. "We play great when it is all square or even when we are losing. But when we get ahead we seem to leave all that behind and we become insecure, like a small team."
Luckily for Il Barone and his calamitous midfielder, it would not prove to be a fatal blow to their title dreams. The Giallorossi kept their focus and managed to grab the Scudetto for only the second time – the first in more than four decades. Fiorentina achieved a more than respectable fifth place but it left them a point short of the last UEFA Cup spot which went to Verona.
And, despite the momentary disaster, Ancelotti went on to have a stellar career. There were numerous honours with Milan and then more managerial triumphs, first in Italy and then in England. Only in the Stadio Artemio Franchi, perhaps, do they still fondly remember him for a rare error which he would probably rather forget.
You can find more from Giancarlo at his excellent blog or by following him on Twitter here