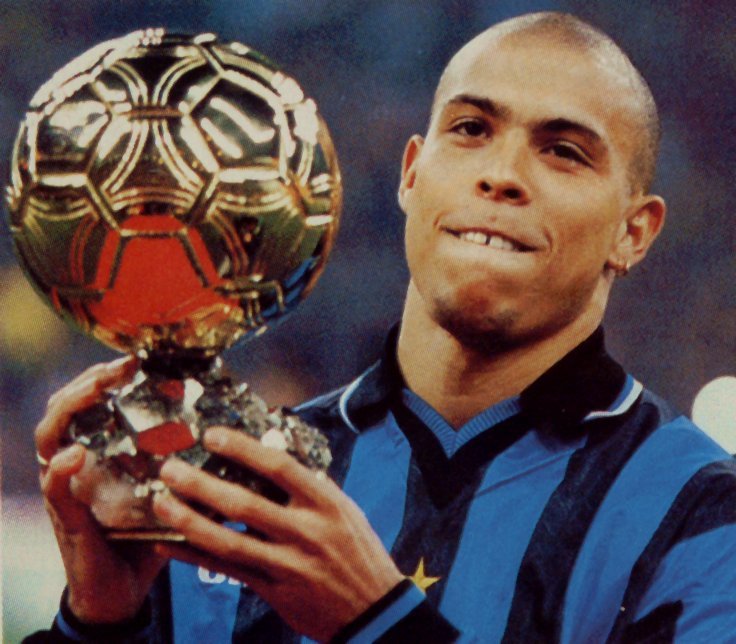 "Can anybody, anywhere, show me a better player?" - Sir Bobby Robson
34 goals in 37 games for Barcelona. 83 in 127 for Real Madrid. For PSV, an even more remarkable 42 in 46 games. A career total of 247 goals in 343 games and a ratio of .72 per appearance. Yet the rotund forward will forever be remembered not for what he did achieve, but for what potential was kept permanently in hindrance by injury.
It was 1996, and 20 year old Ronaldo Luís Nazário de Lima was in his first and only season for FC Barcelona. He had already taken the football world by storm as early as three years prior, in a fantastic debut season for Cruziero. As a seventeen year old, he notched in 12 goals in 14 games, a remarkable return that would beget a trend of many astonishing goalscoring seasons. The team was led to a Copa do Brasil championship largely on his shoulders, and other clubs were closely watching. It was PSV Eindhoven who would benefit after the 1994 World Cup (in which he was selected by did not play) and sign the young prodigy.
In his first season for the Dutch side, Ronaldo continued where he had left off in Brazil, notching in thirty goals for his new club in thirty three games. His second season saw him notch twelve goals in thirteen appearances; playing time was at a premium due to a knee injury. Nevertheless, whilst in the Netherlands, Ronaldo was the Eredivisie top scorer in his debut season and led PSV to the Dutch Cup in 1996. By the age of twenty, the young man had already established what his career would center around: astonishing goalscoring feats intertwined with spells on the sidelines due to leg injuries.
Barcelona, however, did not seem to mind the risk. The Catalan club payed a premium for the Brazilian in 1996- a then record of 19.5 million pounds. In his debut season for the side, Ronaldo went on an astonishing run, scoring 47 goals in 49 games for the team. His league tally of 34 goals in 37 games earned him the Pichichi Trophy and stood as the highest tally in Spain for 13 years (Until it was equaled by a certain Lionel Messi). He finished second in the Ballon d'Or voting process that year (losing out on a single vote to Matthia Sammer) and became the younger player to win the FIFA World Player of the Year award. Barca, like Cruziero and PSV before them, were rewarded handsomely for his prodigious feats as the club would go on to win the UEFA Cup Winners' Cup, the Copa del Ray, and the Spanish Supercup.
Yet, after such a superlative season, re-negotiations with the club broke down and it became clear that his one year in purple and blue stripes would be his last; soon after, he appeared instead in black and blue. Internazionale payed his buy out clause and then some, setting another record transfer fee in the process. He immediately brought success to the Italian side, leading them on a successful UEFA Cup run and scoring in the final, as he for Barca in the Cup Winners' Cup. In the league he once again to be worth every expensive penny that he cost, finishing second on the Capocannoniere charts to Atalanta's Pippo Inzaghi, and once again winning the FIFA World Player of the Year award in 1997 as well as the Ballon D'Or that year.
His time at Inter proved to be critical in his development as a genuinely world class forward. He began to add assists onto goalscoring feats; took penalties and the occasional free kick for the side; and even, at the end of the season, captained the team. The press nicknamed him "Il Fenomeno" ("The Phenomenon") for his astounding pace, control, and ability to slip past defenders. By the end of 1998, he seemed to be a permanent fixture in the top 3 for both player of the world trophies, finishing second on FIFA's list and third for the D'Or.
Disaster struck the following year. On November 21st 1999, Ronaldo felt something in his knee and was forced off the pitch during Inter's match against Lecce. He had ruptured a tendon in his knee and needed surgery, and re-aggrevated the injury seven minutes into his comeback the following April. He then disappeared from the world's stage for nearly two years, only showing up once again in 2002 to lead Brazil to World Cup glory. Real Madrid picked up the injury-prone forward that summer, as he ended his five year stay in Italy having played 99 games and having scored 59 goals.
His five years at Real were characterized once again by records and injury. Until spats with Fabio Capello concerning his weight forced him out of the club, Ronaldo was still class on the pitch. This was perhaps most aptly demonstrated in his hat-trick against Manchester United in the 2003-2004 season which earned him a standing ovation from the English fans.  His injury that season derailed what could have been a possible treble for his side. Nevertheless, the player picked up numerous awards during his second stay in Spain, including another Pichichi and countless Cups with the team.
It was clear by 2007 that Ronaldo was no longer the player he had been ten years earlier. Weight was becoming an issue for the man who was increasingly increasing in size, and his injury spells had yet to subside. AC Milan took him from the Spanish side in a move that turned out to be rather unsuccessful. Though he scored in the derby against Inter, and ended his first season with a still respectable 9 goals in 20 games, his knee injury re-occurred the following February. His kneecap ligament in his left knee had once again ruptured- the third time this had occurred for the striker, and the first time since 2000 with Inter. He transfer to Corinthians soon after and spent two years there, scoring 18 goals in 31 games before retiring in February of 2011.
His international career was at least as stunning as the one he had with clubs. He played 97 games for Brazil and scored 62 goals. By 2006 he had set the record for number of goals scored on the world's biggest stage, besting the like of Pele, with 15 strikes. He retired as one of the few players to score in three different World Cups and as the second player (after Jurgen Klinsmann) to score at least three goals in three World Cups. With him playing in the side, Brazil won a World Cup, reached a final, and reached the quarter finals. The biggest mystery during his international career remains the convulsive fit he suffered the night before the 1998 World Cup final and his unlikely appearance during the game.
The last four years of his club form will likely not be remembered by those who watched Ronaldo play. Instead, a highlight reel of his superb time with Inter, Barca, or Real is most probable to flash through the minds of those fortunate enough to watch the man at his prime, when he was un-injured. Had he not been so injury prone, Ronaldo had the prodigious talent and strike-rate to take his place amongst the best players of all time. Given his persistent re-occuring injuries, however, he will likely go down in history as one of the greatest cases of what could have been in footballing lore.