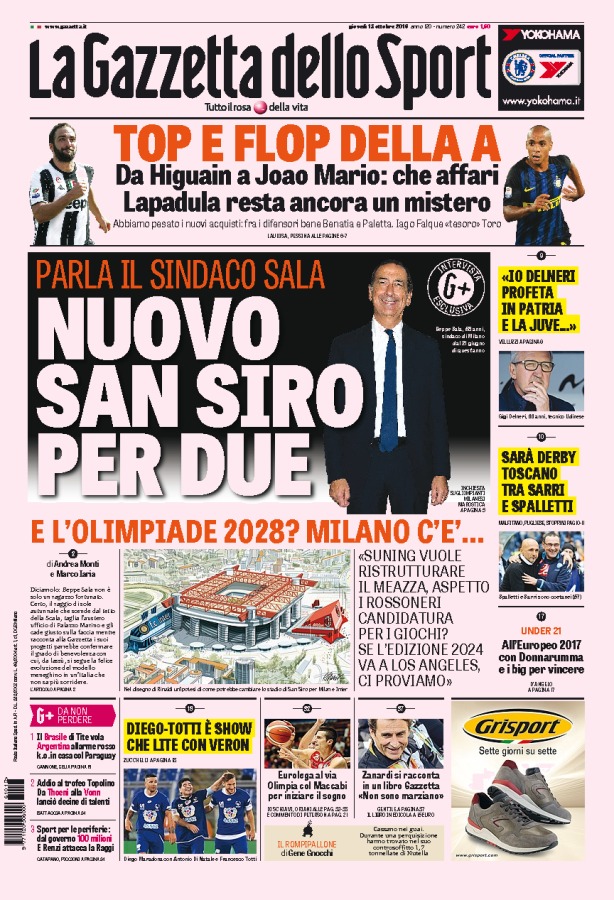 Gazzetta dello Sport
Crazy Inter, behind 2-0 against Palermo, saved by the debutante.
Pazzini scores 2 goals and draws the penalty for the 3-2. Julio Cesar decisive on Javier Pastore penalty and Balzaretti.
Hat-trick Cavani super Napoli. "We won't set limits on ourselves".
Crisis Juventus
Marchisio illudes then Udinese flies and the jeers arrive.
Matri awakes Cagliari, Brescia: Iachini returns
Osasuna stops Real Madrid, Mourinho, adios Liga?
Corriere dello Sport
Pazzini, Internazionale Delirious
come on in for the second half with Palermo in front by two, scores two goals and wins team leading penalty. final result 3-2
Cavani and hurricane Napoli
Samp beaten by hat-trick hitman Cavani, the goalscoring leader takes his side back to second place "We have no limits".
Rather than bullshit, JUVE go get Spalletti
Milan, here comes Legrottaglie, Juve in search of Matri
Napoli: Matavz. Inter track Criscito and Nagatomo
Roma's future, a decisive day, here is the offer
18th hour brings final offer. Stopped by snow yesterday in Bologna.
Incredible Real Madrid, with loss are now 7 points behind Barcelona
Mourinho loses and sees Guardiola inch closer to the title.
Tuttosport
Everyone's fault! Play, transfer market, relaunch: now it's a failure for Juve
Inter-Pazzini what spectacle
Cyclone Cavani, Sampdoria ran over
Brescia falls, Iachini returns
Toro: the Gabionetta case can be resolved like this