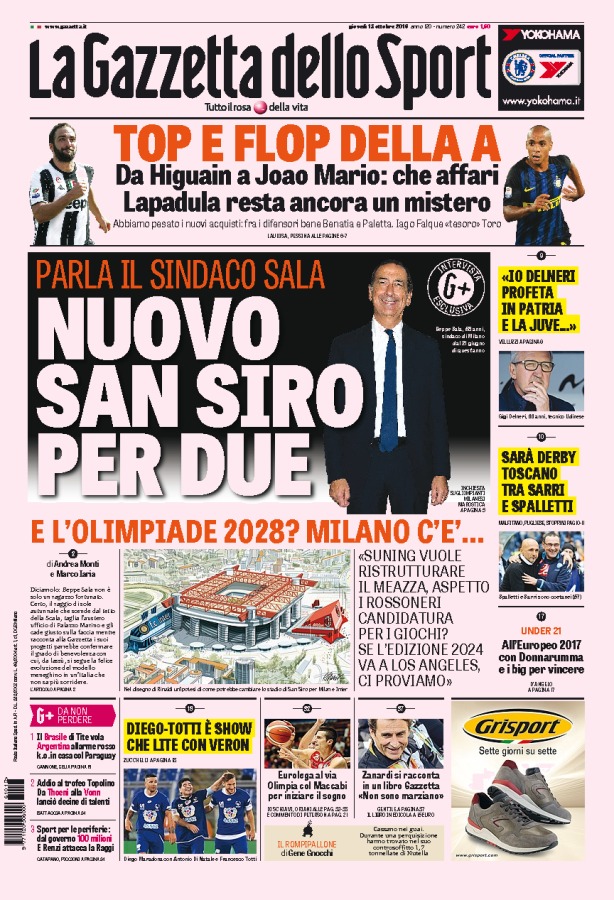 Gazzetta dello Sport
Ibra-Cassano, merry Milan
Balo is treated in America in Tiger's clinic
Mancini sends him to see the knee magician
Del Piero negotiates for his renewal
Yesterday the first meeting with Agnelli. The difference is still 1.5 million.
Here's Ganso, an ace for Leo
Adriano, shoulder KO, he'll be out for a month
Mou's Real triumph, Ronaldo is derby-man

Corriere dello Sport
Milan enjoy themselves
Coppa Italia: 3-0 against Bari. Ibra invents a great goal, Cassano on the field for an hour.

Napoli-Inter on Wednesday, Juve-Roma the day after.
Krasic: "Juve, I've always wanted you. Del Piero is poetry for me"
Leo flies, Pep and Mou battle him
There is never peace on the Inter bench

In the nerazzurro headquarters there is already talk.

about the future as Moratti Jr. searches on.
Ranieri King of the derby, now talk of renewal
Zarate criticism, Reja changes his mind
Tuttosport
"Yes, Luis Fabiano is waiting for Juve"
His agent reveals. The Amauri doubt remains.

The big moves for the attack continue, tied to important sales and the returns of Iaquinta and Toni.

Sissoko remains until June, but is once again out.
His agent reveals. Amauri problem remains
Ibra levels out road. Milan, three goals against the doubts
Eto'o: I didn't have a party for Benitez
How many No 1s for Del Neri. Here is the baby Branescu
Samp, two moves. Pressing for Foggia, braking for Ziegler