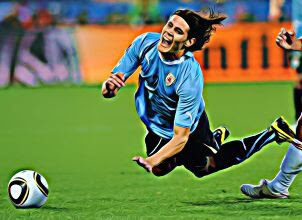 Luis Suárez was the lone goalscorer for Uruguay in this one, as the South Americans finish top of Group A on 7 points.
Their opponents Mexico claimed second place in group A and will also advance to the next stage after a gallant attempt by host nation South Africa to leapfrog El Tri winning 2-1 against 10-men France in the other final group match played today.
The South Africans are level on points with Mexico but lose out on goal differential and will not proceed to World Cup final 16.
As the remaining matches of this year's World Cup group stage are played out, the teams qualifying from Conmebol (South American Football Confederation) are looking incredibly superior to their European counterparts. With Uruguay winning group A and the other teams of, Argentina,Paraguay,Brazil and Chile leading in their respective groups, it looks very likely that we will witness every South American contender for the World Cup crown to keep their hopes alive.

Mexico 0-1 Uruguay
http://mediaservices.myspace.com/services/media/embed.aspx/m=105563134,t=1,mt=video
DISCLAIMER: SERIEAWEEKLY.COM DOES NOT HOST ANY VIDEO CONTENT ON THIS WEBSITE, PLEASE CONTACT THE AGENCIES TRANSMITTING THE AUDIO-VISUAL STREAMS IF YOU WISH TO MAKE A COMPLAINT. serieaweekly.com provides links to other web sites. No responsibility is taken for any information that may appear on any linked web sites. These external information sources are outside our control. serieaweekly.com does not necessarily endorse any company or organization linked to from this site. By using this website at any time you agree to the above disclaimer.