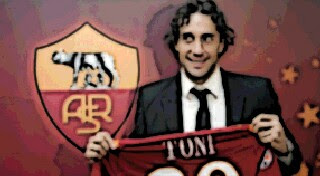 Luca Toni (Roma)
Toni will not return to Bayern Munich next season according to Bayern CEO Karl-Heinz Rummenigge.
Gigi Buffon (Juventus)
Buffon linked to English league transfer. According to Tuttosport Arsenal of London are look at the Juventus keeper as a possible signing this summer. A portion of the Italian media believe this is likely to finance Juve's summer spending spree. Offers would start at €25m
Tiberio Guarente (Atalanta)
Napoli is now being linked with making a move for the young midfielder who is unexpected to remain with Atalanta in Serie B.
Davide Lanzafame (Parma)
After scoring two goals against Juventus, which co-owns him, Lanzafame stated he would like to remain with Parma next season.
Francesco Totti (Roma)
Totti will miss Roma's next four Coppa Italia matches after being red carded for a foul on Mario Balotelli last week.