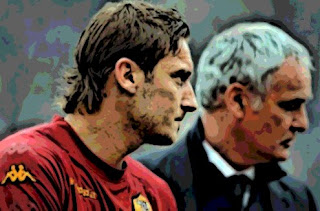 Guest Writer/Jay Scardina - Coppa Italia final hurrah as this may be Roma's only chance at some silverware this season, unless Inter lose or tie a game in the next two weeks.
What does Roma need to do to win? The Nerazzurri squad is a tough team, no doubt about it, they are in the Champions League final for a good reason. Roma will need to keep first half momentum going after the interval, because It seems the second half becomes their worst enemy.
Not sure if is fatigue or tactics causing them to make mistakes in the back but the defense needs to stay tight and in formation as players like Riise can't be caught out of position. Inter take advantage of those situations and it was evident this past weekend that Roma needed help with their defense.
Ranieri subbed Menez for Mexes, putting an extra player in the back and taking the other off the front. The move seemed to work as Roma won the game. However, Roma has given up at least one goal in their last 4 league fixtures. Even when they are ahead, the defense slips and concedes a goal. The defense needs to be tight in the back. Inter has strong attackers, Milito E'tto and Sneijder. These are the players that the Roma defense needs to shut down.
There is the question of making Totti, Vucinic, and Toni into a strike force up front. Totti has missed most of the second half of the season. The team had to learn how to play with out him. However, he has shown signs of returning to good form lately, scoring a goal each in the last two games. Totti breaks the ice by getting the first goal, but seems to have problems finishing any other time he gets the ball. It seems that Totti and Vucinic need to work on their playing relationship, because Vucinic doesn't seem to be same player since Totti has returned. Don't get me wrong, Vucinic makes some great passes to Totti, but it seems that Vucinic and Toni made a better attack up front.
Whether Ranieri starts Totti or Toni with Vucinic the squad need to work on finishing. There have been too many missed chances in the past few games. With a shot at beating Inter and taking home the Coppa Italia trophy, Roma needs to convert those chances into goals. Missed goals will give Inter an edge.
If Totti, Vucinic, and Toni can get it to together I think that they can be a great force up front. I don't think that it has been the same problem that teams like Real Madrid have had with too many star strikers on the team, I think that Totti, Toni, and Vucinic have not have enough time on the field together. When Totti was injured the choice was simple, but now he is back and wants to lead the team. I have faith in Ranieri as I believe that he wants to win the Coppa Italia, because the team has worked very hard this year. To not take something away this season would be a shame. Can lightning strike twice in the same place? We will see at the Stadio Olimpico this Wednesday. Daje Roma!