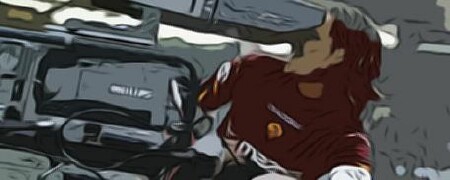 On Sunday at home to Sampdoria, Roma title hopes came crashing down on them thanks to a 2-1 home defeat. This is now a big mountain to climb for Roma to win the title as Inter are 2 points clear but its not over until its over and i think Roma will fight tooth and nail to get top spot. After Sunday defeat to Sampdoria you could see the hurt and frustration in some of the players including Phillipe Mexes, who was spotted crying on the bench shedding a tear or two.
The first 45 minutes of the game you could see Roma winning this game maybe 2 to 3-0 because some of the football that Roma were playing were brilliant. The one-touch football between Jeremy Menez and Francesco Totti was just breath taking. This was back to the old days style of football under Spallett in the 07-08 season. The only thing going into break a goal ahead was that Roma did not double the lead, they had the chances to add the 2nd important goal and did not happen. The scuffle between Vucinic and Perrotta did not help and had to be stopped by the captain Francesco Totti before it escalated. I wonder if this had a bearing in the half time talk by Claudio Ranieri.
Into the 2nd half there was a lack of concentration in the defence for both of the goals conceded on which Cassano drew players away from Pazzini and left him with just Riise and Julio Sergio in front of goal for the 1st goal. For the 2nd goal it was Daniele Mannini who ran at Burdisso and played in for Pazzini and again it was Riise who was marking Pazzini. Roma had all the chances in the 2nd half before conceding to take the lead but was thwarted by Sampdoria defence and keeper Marco Storari.
In my opinion what went wrong was 2 lapses in concentration for both goals, lady luck as Roma had 2 maybe 3 strong penalty claims and was denied by the referee. My final contribution would be that Roma ran out of legs and was caught on the break for both of the goals. It now shows that Roma can win pretty this season but can they win ugly. I tend to say not.