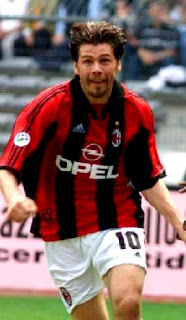 Football and politics are two entwined entities and often throughout history have influenced each other. But one man encompasses this relationship more than most, his name is Zvonimir Boban.
Born in the small town of Imotski, very near the Bosnian border, in the nationalist south of Croatia. He grew up in communist Yugoslavia, but as he neared adulthood Yugoslavia was crumbling. With communism heading for the exit door, nationalism was to rear its head, with Boban a very receptive consumer.
He probably would not have guessed the impact and place he would gain in Croat folklore for one particular incident which took place on 13th May, 1990.
At the time he was playing for Dinamo Zagreb, in the Croatian capital against Red Star Belgrade, the dominant side from the Serbian capital. The match had degenerated into hooliganism and fans had made their way onto the pitch, tensions were also high between the two ethnic groups and this manifested itself in the football hooligan culture.
Boban spotted a police officer beating a Dinamo fan, he then ran over and karate kicked the official in the face. The Red Star fans began tearing down the Maksimir Stadium while the Yugoslav police did nothing, except watch the carnage unfold. Boban can be seen pacing back and forth on the athletics track, visibly angry, muttering to himself, "Where is the police? Where is the bloody police?"
That kick was, for many Croats, the symbol of the uprising against the 70-year Serb domination in Yugoslavia. Many feel that with that kick their nation was born. The war of independence began a year later.
Boban was suspended by the Yugoslav FA for six months and criminal charges were brought against him, and as a result missed the 1990 World Cup Finals in Italy.
His playing career was a little less eventful than events playing out in his homeland, but it was a magnificent career. Beginning in Zagreb where he played a total of 109 games for Dinamo, making his debut as a 16 year old and made captain of the club at only 19. He also played a big part in Yugoslavia's win in the 1987 World Youth Championships.
Following the aforementioned incident with the Yugoslav police officer, he made a move to Italy and joined AC Milan at the specific request of manager Fabio Capello. Signed in and £8 million deal he was immediately loaned to Bari, which allowed Boban time to settle in the peninsula and get himself up to speed with the Italian game. Bari were fighting relegation and the talented Croat could not stop the Galletti from dropping to Serie B. However, despite this, Boban demonstrated his qualities, excellent technical skill, vision and ability to play the killer pass.
On his return to Milanello, he was made an integral part of the Rossoneri side. Given his debut in a 6-2 victory over Ternana he quickly established himself in the AC Milan midfield, a midfield that contained Ruud Gullit, Roberto Donadoni and Demetrio Albertini. In particular, his partnership with Albertini would hold Milan in good stead for years to come and provide the platform for continued success for AC Milan.
Milan won the Champions League in 1994 and Boban was the star of that side which swept away all challengers before coming up against Johan Cruyff's Barcelona dream team, a match in which AC Milan were underdogs and expected to be swept aside themselves. But this was not to be, Boban gave a master class in midfield wizardry, very much involved in the first goal as Milan went on to win 4-0. Milan's performance is regarded as one of the finest European Cup performances in the history of the competition and Boban was a vital part in it.
More success was in the pipeline for Boban and the Rossoneri, another Scudetto in 1996 and one in 1999, his last. It was this triumph in 1999 which could be thought of as sweetest for Boban as Milan at this point were on the wane and Alberto Zaccheroni had been brought in from Udinese. Milan started the campaign in disastrous fashion and were way behind title favourites and big spenders Lazio, but Milan held firm and refused to give up as they won the championship on the last day of the season as the beat Perugia 2-1.
Boban was vital to this success, he showed incredible craft and vision, he took on more responsibility as he was an elder member of the side, and he scored a number of important goals, whilst assisting in even more as he operated behind the formidable strike force of George Weah and Oliver Bierhoff. He had everything you could want in a midfield playmaker, a true trequartista.
In 2001, Rui Costa was brought to Milan from Fiorentina and Boban found himself on the fringes of the first team, a loan move was agreed to Celta Vigo in Spain but after starting only four matches he announced his retirement from the game in October 2001. Zvonimir Boban played 251 games, scored 30 goals for AC Milan and is one of the best foreign imports ever to have plied their trade in Serie A.
In nine seasons at the San Siro he won four Scudetti, the European Cup, three Supercoppa Italiana and the European Super Cup. But he also had a distinguished international career with his beloved Croatia. Initially playing for Yugoslavia, he won seven caps before Croatia gained independence. A further 51 caps were acquired as a Croatian; he played in the 1998 World Cup and captained the side to an outstanding third place finish.
Since his retirement from the game Boban has gone on to complete a history degree at the University of Zagreb, submitting his thesis on "Christianity in the Roman Empire". Always regarded as an articulate man, he reads widely and impressed many with his eloquence and knowledge of world literature, history and political affairs. Upon completing his degree he is quoted as saying: "Only after four years of study have I understood how little it is that I know. Learning new stuff serves one solely to understand the insignificance of one's knowledge."
He also started a career in sports journalism, writing for Croatian sports newspaper Sportske novosti, as well as being a commentator for the Sky Italia and columnist for La Gazzetta dello Sport. He also owns a bar in Zagreb, imaginatively titled 'Boban'.
Zvonimir Boban's first love will always be his country, in the documentary The Last Yugoslavian Football Team, he states. "Croatia is the reason I live. I love my country as I love myself. I would die for Croatia."