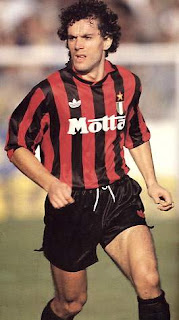 Mention the name Roberto Donadoni to most people and the first thought that would creep into their mind is 'incompetent coach', but many forget he was a great winger and one of the reasons AC Milan dominated Serie A and Europe during the late eighties/early nineties.
Born on 9th September 1963 in Bergamo, he was picked up by local side Atalanta where his glittering career began and after an outstanding season with the Atalanta youth side he made the step up to the first team in 1982 while they were playing in Serie B. Helping Atalanta to promotion in 1984, he managed a further two seasons in Serie A with the Orobici.
Donadoni was a winger, not just any winger a superlative winger, he was known for his wonderful technique and ability to run with the ball. He could dribble, cross and finish to as high a standard as any player of his day. He owned the right side of midfield and his bursts of pace legendary.
His big move came in 1986, when Silvio Berlusconi personally brought Donadoni to the recently acquired AC Milan side. Berlusconi did the negotiating himself and Donadoni was his first capture as new Milan owner.
There was controversy surrounding the capture as Juventus, it seemed were in pole position to sign the right-winger from Atalanta and allegedly had an agreement in place with Atalanta before Silvio swooped. This was the first time a player 'promised' to Juventus had not made the move to Turin.
His time in Milan was awash with silverware; Donadoni was a vital cog in a team that won five Serie A titles, three European Cups, three European Super Cups, and two Intercontinental Cups. Possibly his finest hour came in the 1989 European Cup semi-final where he was instrumental in the 5-0 drubbing dished out to Spanish giants Real Madrid, scoring the final goal in the rout.
Playing under with Arrigo Sacchi and with Fabio Capello he was a stalwart in the Milan side for ten years, winning everything there was to win with the Rossoneri. So in 1996, Donadoni moved across the Atlantic and joined NY/NJ Metrostars of the newly formed American MLS (Major League Soccer). In this first season he was voted into the Best XI for that particular year.
After two years in the USA he returned to AC Milan and played a further two seasons for the Rossoneri and won his final Scudetto in 1999 under Alberto Zaccheroni.
Emigrating to Saudi Arabia to play in 'Al-Ittihad, he won the last championship of his decorated career during his only year with the club. He retired in 2000.
Coupled with a glittering club career he was also key for the Azzurri side. Winning 63 caps between 1986 and 1996, playing in the European Championships of 1988, and 1996. Unfortunately his national career will forever be remembered for his penalty miss in the 1990 semi-final. He was also part of the team the lost on penalties to Brazil in the 1994 World Cup Final.
Since his retirement from playing, Donadoni has gone on to coach a number of sides in the Italian lower leagues. He began his coaching career with Serie C1 side Lecco in 2001; he took over the top job at Livorno in 2002. A brief stint at Genoa during the 2003/04 season resulted with Donadoni returning to Livorno in 2005. It was here he made his name as a coach when he amazingly led the Tuscan team to sixth place in Serie A. But he handed in a shock resignation during February 2006, after Amaranto chairman, Aldo Spinelli, denounced Donadoni's tactics after a 2-2 draw with Messina during a television interview. Donadoni was wounded and felt this was not the way he wanted to be treated and he immediately quit the club. A bigger job was to come calling soon after.
After Marcelo Lippi resigned from the Italian national job following the 2006 World Cup triumph, Roberto Donadoni was his chosen successor.
His reign at the helm of La Nazionale was disastrous to say the least, only months after taking the job Italian newspaper La Nazione's front page featured "How to reduce Lippi's masterwork to pieces in just three weeks," following some embarrassing EURO 2008 qualifier performances, though Italy did qualify for the tournament.
During EURO 2008, Donadoni was handed the biggest defeat for Italy's national team in over 25 years by former Milan team-mate Marco van Basten: a 3–0 loss to the Netherlands. He was castigated in the media for his choice of players and tactics during the tournament. As a result of Italy's dismal showing he was relieved of his duties in June 2008.
On 10 March 2009, Napoli announced the appointment of Donadoni, he lasted 18 games, winning just four.
Roberto Donadoni may not have the best record as a coach, but he is one of the most decorated players ever to play the beautiful game. He captivated audiences and was part of an invincible AC Milan side, holding his own with the likes of Marco van Basten, Ruud Gullit and Frank Rijkaard.