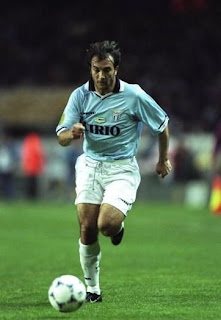 Pierluigi Casiraghi carved out a very respectable career in Italy with Monza, Juventus and Lazio, then moved to England to play for Chelsea. He now coaches the Italy U21 side. But what makes Pierluigi a Legend of Calcio? We will find out.
Casiraghi started of his career in 1985 playing for local side Monza in Serie B and Serie C1, he helped them achieve promotion to Serie B, with one season of consolidation and 9 goals to his name, he caught the eye of the biggest club in Italy.
Juventus signed the striker in 1989, his best season for Juve came in 1990/91 when he scored 8 goals in 24 appearances for the Old Lady, but he didn't quite fit in Turin and was shipped off to Lazio in 1993. He did manage to win a couple of UEFA Cups and the Coppa Italia during his time there but ultimately 20 goals in 98 appearances wasn't good enough for the Turin giants.
It was the move to Lazio which ignited his career; he did start slowly in the Italian capital, scoring only 4 goals in 26 games when paired with Giuseppe Signori in his first season. The following season Casiraghi was the number one striker for Lazio, he combined with the crafty Alen Boksic, and in 34 league games Casiraghi scored 12 goals, including four in an 8-2 victory over Fiorentina and a memorable goal in the Rome Derby that Lazio won 2-0. His most successful season came the following year; he scored 14 goals in 28 Serie A games. This ultimately proved to be the height of his career.
The Lazio manager Sven Goran Eriksson preferred Roberto Mancini and Boksic as a strike partnership, thus giving Casiraghi limited opportunities in the League. But it was in Europe where he continued his goal scoring exploits, leading the team with 4 goals in 10 matches in the UEFA Cup that took Lazio to play their first European final, losing 3-0 in Paris against Inter Milan. He did though win the Coppa Italia that season as a consolation.
Casiraghi made his debut for the national side on February 13, 1991 against Belgium the match ended 0-0. He was also part of the 23-man World Cup squad in 1994, playing three matches in Italy's run to the final; he did not manage to score. Competing in Euro '96, he scored a brace in a 2-1 win against Russia, though could not stop Italy crashing out of the tournament early. His contribution was also vast during the run up to the 1998 World Cup, sealing Italy's qualification for France 98 with the only goal in a play-off against Russia in November 1997; he failed to make the squad as Coach Cesare Maldini preferred an emerging Christian Vieri in attack.
It was just before the World Cup in 1998 he moved to Chelsea, in a £5.4million deal from Lazio. He did manage 10 appearances for the Blues in his time there and his effort is to remain un questioned, his only goal came against Liverpool at Anfield, you may remember it, think Phil Babb and a goal post becoming more than friends.
It wasn't long after that his Chelsea career came to an end, thanks to a cruciate ligament injury sustained during a collision with West Ham goalkeeper Shaka Hislop in November 1998. Despite going through ten operations, he was unable to make a comeback and his contract with the club was terminated in March 2002 with Casiraghi receiving a £450,000 insurance payout.
After a career ending injury, Casiraghi dedicated himself to coaching the game and went back to his roots when he took up a position as a youth coordinator at Monza. His first coaching role was achieved in 2003 with Serie C2's Legnano which lasted almost a year. He was then back Monza and their youth sector before landing the Italy U21 job in July 2006.
So far he has led the Azzurrini to fifth place in the 2007 European U21 Championships, the quarter final of the 2008 Olympics, victory in the 2008 Toulon tournament and third place in the 2009 European U21 Championships.
Currently, Italy are struggling in qualification for the 2011 U21 European Championships and lie third in their group behind Wales and Hungary. Casiraghi has come under increased pressure and it looks as if he will be out of a job after the current campaign is over.