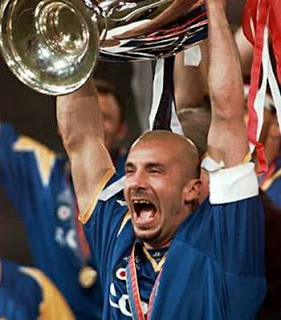 Juventus have had a plethora of phenomenal strikers over the years but there is one who stands out over his modern day rivals His name is Gianluca Vialli, a legendary centre forward and accomplished manager; as a it can be argued he started the Chelsea revolution we see today, laying the foundations for Claudio Ranieri, Mourinho and Carlo Ancelotti to build on.
He started of his career at hometown club Cremonese after playing youth football with Pizzighettone. His first team debut came in Serie C1 for Cremonese and they were subsequently promoted to Serie B, he then played with them in Serie B, scoring 23 goals in 103 games. His performances attracted the interest of Serie A side Sampdoria, to whom he transferred in 1984.
Sampdoria were on the verge of the most successful period in the clubs history and Vialli was an integral part of it. He formed a deadly partnership with Roberto Mancini; they had an understanding that was second to none, telepathic even. This earned them the nickname 'The Goal Twins'.
Vialli's goals, coupled with Mancini's led Sampdoria to amazing success, they won the Italian Cup 3 times and the UEFA Cup Winners' Cup once, but their crowning glory was winning Serie A in 1990-91, a truly outstanding achievement considering the competition from the likes of Maradona's Napoli and the great AC Milan side containing Marco van Basten, Ruud Gullit and Frank Rijkaard. This victory meant qualification into the European Cup the flowing season. The fairytale was to end when Barcelona triumphed over the Sampdoria 1-0 after extra time in the 1992 Final. Still to this day that Samp side are revered in Genoa among the Blucerchiati faithful.
After 85 goals in 223 appearances for Samp, the peninsulas biggest club, Juventus swooped to sign the prolific forward and in 1992 paid a world record fee of 12.5 million to sign him. This was to prove a catalyst for the rejuvenation of Juventus; Vialli first formed an awe-inspiring attacking trident with Fabrizio Ravanelli and Roberto Baggio, then later with Alessandro Del Piero when he replaced Baggio in the Juve side. In 1996 he had the most important victory of his career, the European Cup, beating the final in Rome Ajax on penalties and managed to win the trophy he lost with Sampdoria in 1992. Adding another Coppa Italia, the UEFA Cup, Serie A title and Supercoppa Italiana he was key to the Juventus side in the 1990's, scoring 32 goals in 102 appearances.
With such success in Turin, Vialli moved to the Premiership as one of Ruud Gullits big name Chelsea recruits. His time at with the Blues wasn't always rosy; he had many disagreements with Gullit which limited his playing time. He was instrumental in an F.A Cup win over Liverpool in which he scored two goals to complete a marvellous Chelsea comeback. They won 4-2.
The following season he lifted the League Cup and UEFA Cup Winners' Cup, along with the UEFA Super Cup in 1998 as player coach after Gullit was sacked in February 1998. This European victory cemented his place as one of the most decorated players in the game, and he is one of only nine to win all three major European trophies.
Following the sacking of Gullit he took over the reigns at Chelsea, first in a player/coach capacity but then becoming full time coach to the side. He lead a Chelsea team to F.A. Cup glory in 2000 after beating Aston Villa and then won the Charity Shield by defeating Manchester United. Vialli's fifth official trophy with the club, in less than three years, made him the club's most successful manager at the time.
As with everything, all good things must come to an end, and Vialli was sacked after a poor start to the 2000-01 season and a number of rows with star players, such as Gianfranco Zola and Didier Deschamps. He did take up one other managerial role, with Watford. It wasn't a success; he spent a large amount of money making wholesale changes to the side and only managed a 14th place finish in the First Division. Leading to his departure after only a year in charge.
Since then he has been linked with numerous managerial roles, including QPR, West Ham United and Juventus but thus far has not taken charge of another club. He has though been working on his golf handicap and took part in the Dunhill links championship pro-am event. On 26 February 2006 was the bearer of the Olympic flag during the Closing Ceremony of the XX Olympic Winter Games Torino 2006
In 2006, he co-wrote a book with journalist Gabriele Marcotti, entitled The Italian Job. It is a discussion into the differences between English and Italian football and also his time at Chelsea.
Currently he is a pundit on Sky Italia covering Serie A matches.