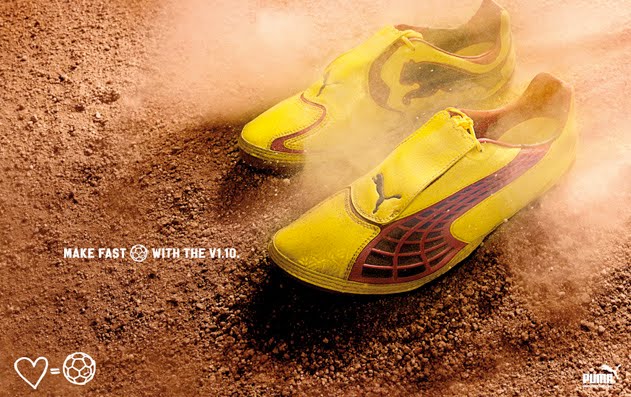 written by: Juan Arango/MAF - Sometimes reviews are instances where you not only learn about certain products, but you also learn to acquire new tastes and finally realize what you were missing. In previous reviews I always talked about how good certain boots were for everyone- except me. I talked about what they offered Joe Fan. Now I talk about what the boots offer me. More importantly, this was an opportunity to gain a respect for the science and art that is the conception of a product. I never underestimated it, I just was able to give these boots a chance and I was rewarded with something that I rarely ever had in a shoe- comfort and control with a dash of pizazz.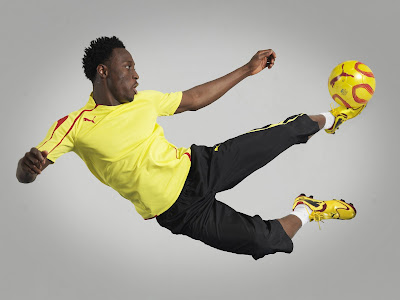 PUMA did everything in their power to make the v1.10 one of the most successful lines of soccer wear in the world. There were various factors that made a product that was so good very successful. The third generation of the v Series is quite impressive although I did have my reservations at first, I felt enamored by the shoe based on the fact that is offered more than fluff- it offered comfort without compromising performance.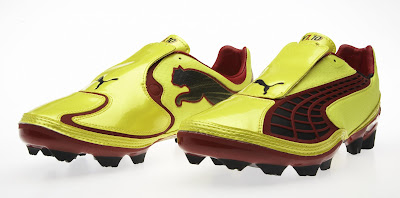 The v1.10s were the most talked about boot in the tailend of 2009, especially when Nicolas Anelka broke those boots in back in late September. In the latest Puma campaign Inter striker Samuel Eto'o as well as Arsenal's Emanuel Eboue and Lyon's John Mensah as well as other international stars that will be taking part in the African Cup of Nations appear wearing the boot along with their respective kits.
They were bold enough to continue using their successful formula of boldness and expanding boundaries with their template designs and color schemes. They were also placing the v1.10 among the vanguard of soccer boots out there with some of the tweaks that they made for compared to it predecessor- the v1.08. The eye-grabbing designs either very polarizing in the sense that either you instantly like them or not. The trick with these shoes is to give them a chance and your chances of falling in love with them grow exponentially.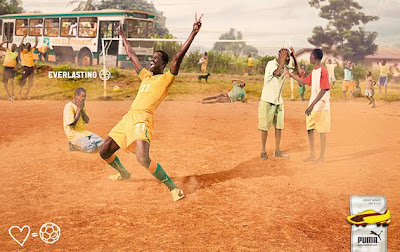 Many could consider it the Snow Leopard of soccer boots. It is not the most revolutionary of shoe out there, but there was enough tweaking that gave it it's own identity and helped it gain some type of the following:
Weigh-in at an ever-impressive 8.2oz.
Front panel is created using a soft, abrasion-resistant microfiber, lightly covered by a grip-like texture
A front lace cover that is loose enough to pull away from the laces when tying
A lightweight Pebax frame, that is see-through. In order to see that better you can remove the inserts.
Pointed stud configuration designed to enhance ground traction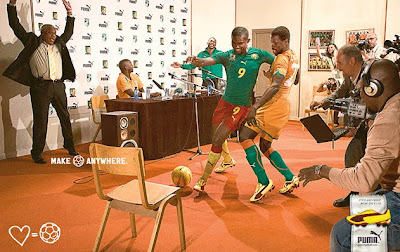 Ok, I was not a fan at first of the bright yellow/chili/pepper combination at first, I thought that it was too bright, to flashy for my taste. Where I failed to look was at the entire picutre. The v1.10 boots are part of what make the entire line so unique. The color schemes themselves but it is a perfect scheme of colors for their World Cup campaign as well as the teams that they are outfitting in South Africa next June. If you were to give me a choice I would have taken the red/black model, but then I saw the Kehinde Wiley limited edition design. For many this was the v1.815 Ferrari of late'09. When people saw that boot, they had no other choice but to consider it the Ferrari of Boots- no pun intended.
Is it bad? Absolutely not. That just comes down to personal preference. I am simply old school and like the classic black boot. I am that lunchpail, hardhat type of player that doesn't want anyone in my neck of the woods. Yet with every passing moment on the pitch, I did feel comfortable. Ultimately that was the first step towards becoming attached to the boots.
Then I saw Cameroon's second uniform then any preconceived notion of the old school boot can be shoved aside for a little while.
The Boot
The upper part of the boot consists of a microfiber with grip texture, lace cover, textile, TPU injected external heel counter. The main function of this design is to be able to obtain the necessary feel for the ball that one needs in order to strike and dribble the ball. The upper brings together the light microfiber in certain part of the show where kicking is essential by using a lightweight durable textile. The outsole:Pebax has a TPU, carbon fibre, pointed stud configuration. This allows the player to use to their maximum potential on firm natural surfaces.
The v1.10 features the
second generation of PUMA's revolutionary UNI technology. This construction provides an industry leading fit by perfectly replicating the unique PUMA AptoLast.
Personal quirks
When doing a review one of the things you are doing is giving an opinion and what better way to do so than by divulging personal quirks. I have a wide foot so for many years I had to compromise comfort for price and performance for a bigger shoe that would not kill the sides of my feet. I also had to compromise the shoes I bought because there were times in which my foot would move around inside the shoes, thus canceling out any type of stability that the might offer. The v1.10's TPU application around the formstripe gave me a sense of stability that I had on rare occasions where I wore three or more pairs of socks.
There was also the fact that I dread putting on boots before playing. It is a religious routine where one foot it perused into wearing the boot and then the other before the religious experience that I call "running with cleats" begins. This time I was rather surprised at the ability of the Puma boot to mold to a foot as complicated as mine. The usual pain that surrounded my feet in the first few minutes followed by an annoying numbness were all part of the repeated initiation I had to give my boots on multiple occasions every week.
What I had read about the insert in other reviews happened not to be the case with me, fortunately. I am actually a fan of the tongue the way it is. Ok, you might have to play with it a little bit more than usual so it doesn't bunch up, but there was really I was not prepared to endure yet another month of strictly flip flops because of skinless heels.
Much to my surprise, the sturdiness that the show offered permitted my movement to be crisper and my touch to be more precise. The issues with the tongue weren't so big, I had no problems with that part of the shoe although I do understand where some individuals might have.
Impressions
Overall, the Puma v1.10 is still causing turning heads in pitches all over the United States and the world. Although they brag about the v1.10 being created "to give you the confidence to be your fastest" I would disagree. The boot is marketed and designed for the winger with crazy pace or that number 10 with sick skill. With that in mind there are various features that the boot has that caters to a wide array of players. I would personally sell this shoe as one "that gives you the confidence to be your best". in my case it was a shoe that give you the confidence to "not have to wear three socks" or "feel like you are wearing cement boots".
This is why I do not look at it as a shoe for certain positions. It is a shoe that can be used by all 11 players on the team because of the adjustments that were made and the attributes that make it so unique. If you would like to take a look at the entire v1.10 line check out Puma's website.
***Shout out to all the folks at PUMA for all their help with this review. ***
Check out the Puma slideshow and written review.

http://www.facebook.com/v/1308061508391