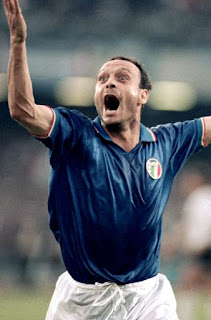 Cast your mind back almost two decades, the Cold War was ongoing, Margaret Thatcher was leader of a Conservative government in the UK and everyone was doing the Vogue, courtesy of Madonna. But there was something else about 1990 that will have you in a world of excitement and wonder; it was indeed the performances of Salvatore 'Toto' Schillaci for Italy at the 1990 World Cup. The tournament propelled the diminutive Sicilian from obscurity into world superstardom.
Toto was born on 1st December 1964 to a very poor family, and was raised in an area of Palermo, controlled by the mafia. He started his career with the local amateur side, Amat Palermo, before he caught the attention of Messina, to whom he transferred in 1982.
At the time, Messina were decaying in Serie C2 – the Italian fourth division, but with the help of Schillaci's goals, they slowly improved and were eventually promoted to Serie B at the end of the 1985/86 season. The catalyst for Toto's career was the arrival of Coach Francesco Scoglio in 1984.
Messina became Serie B stalwarts and consolidated their place in the Italian second division, but Zdeněk Zeman replaced Scoglio in 1988. The Czech tactician's attacking style of football complimented Toto's style of play perfectly, as he finished Serie B most prolific marksman, bagging half of Messina's 46 goals in season 1988/89. This magnificent tally brought him to the attention of the country's biggest club and he signed for Juventus in the summer of 1989.
Under Juve coach and footballing legend Dino Zoff, Schillaci continued his superlative goal scoring exploits throughout the 1989/90 season. The World Cup of 1990 was to be played in Italy and Toto desperately wanted to be part of Azeglio Vicini's Azzurri squad. That season, Toto proceeded to score 15 goals as the Bianconeri won both the Coppa Italia and the UEFA Cup.
Despite his exploits many in the media expected Schillaci to leave be left out of the Azzurri squad as he already had four strikers of considerable ability and reputation ahead of him in the pecking order – Sampdoria goal twins Gianluca Vialli and Roberto Mancini, Napoli's Andrea Carnevale, and Inter's Aldo Serena. Even if picked he would probably only sit on the bench but, to the surprise of many Toto was called up to Italy's World Cup squad despite having played only one game previously.
Toto started the tournament from the bench. Vicini chose to start Carnevale alongside Vialli for the opening group game against Austria. With the game poised at 0-0 and 76 minutes gone, the Juve striker was given the call to warm up. Within a few minutes of being introduced, Vialli swung the ball over from the by-line, and Toto was there to score with a bullet header to save the home nations blushes. His moment of glory arrived, Toto announced himself on the World's biggest stage.
However, he was left out for the next game against the USA, but with Vialli's poor form and growing public pressure, Schillaci started the last group game against Czechoslovakia where he again scored a header.
Toto scored his fifth goal of the tournament in the semi-final against Diego Maradona and Argentina; the game ended 1-1 after extra time and went to penalties. Schillaci did not take a penalty as the Azzurri crashed out in heartbreaking fashion.
He finished off his meteoric rise by scoring the winning goal in the third place play-off against England and subsequently ended as the tournament's top scorer with six goals, thus winning the Golden Shoe award. FIFA also awarded him the Golden Ball as the tournament's best player.
The seasons following that World Cup were disappointing and scoring only 11 goals for a Juventus side in transition brought much criticism of the Sicilian. He then incurred a series of injuries and was soon shipped out to Inter Milan in 1992.
Ignored by new Italy coach Arrigo Sacchi, continually booed by his own fans at the San Siro and even insulted outside the ground itself, called a 'terrone' literally meaning 'farmer' it is a derogatory term used by northern Italian towards their southern counterparts. He had fallen from national hero to non-person in a couple of years. Inter fans used his presence as an excuse for the teams continued poor form and results.
After Inter decided to rid themselves of Toto, he moved to the emerging J-league in Japan and signed for Jubilo Iwata in 1994. Never the same player during his time in Japan, his natural capacity for scoring goals never left him, as he ended up scoring a club record of 60 goals in three seasons.
Since his retirement, he has opened up a football academy in the island of Sicily, while he also had a short foray into politics, as he was elected as a local councillor in his home town of Palermo, more recently he took part in the reality TV show L'isola dei Famosi in 2005.
One of the greatest rollercoaster rides a player could have had, but one that will forever keep him in the hearts of all Italians. Toto, we salute you.