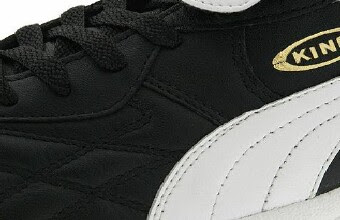 This review has been a long time coming. I've had the King Allround Turf Trainer since early spring and have been wearing them not only for indoor play but also as a casual walking shoe. Quite simply the King Allround has an extremely comfortable feel for a sports shoe. Google the KING Allround TT and you'll discover numerous positive reviews across the web for example,
"awesome shoe - no more heel problems - My daughter has been experiencing heel problems on and off for about 2 years while playing soccer. A friend of mine recommended these turf shoes. I purchased them about 2 weeks ago and she has had no problems at all with her feet or heel. They work great in doors and out doors."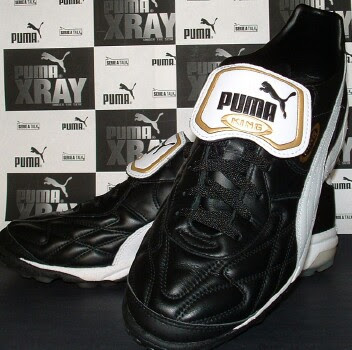 PUMA markets the shoe as a, "professional soccer shoe for use on hard natural surfaces and artificial turf" but the midsole CELL technology makes all the difference in the comfort zone.
King Allround TT Features
combines PUMA CELL ultimate cushioning and PUMA LITE leather for consistent comfort

PUMA LITE leather upper with a quilted vamp, Griptex ankle lining and distinctive pro-style foldover tongue

e+Cell in the heel, developed to address the weaknesses of a foam midsole. The Cell system has a structural array designed to ensure cushioning, stability and durability over the life of the shoe

everTrack multi-studded Ground Control outsole stud configuration design

bio-mechanically and anatomically proven stud positioning to evenly distribute pressure under a variety of conditions

utilizes "double-headed" studs designed for penetration without ground locking
An added bonus to comfort and a great fit is that the King Allround is quite reasonably priced and won't leave a dent in your wallet. I'd like to thank Puma Canada for supplying our test pair. I hope this review has been of help to Serie A Weekly readers and please leave your comments and opinions below. Next week we'll be looking at the PUMA LIGA XL TT boots.
Additional Pictures of The PUMA KING Allround TT