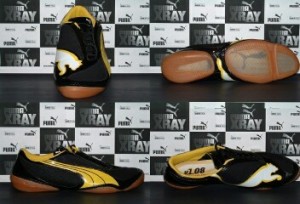 Another thumbs up for PUMA, not sure what more I can say about PUMA's Aptolast feature as I really love this all stitch design the feeling is extremely form fitting. The boots never leave your feet and are like a second skin. Another great feature is the upper made up of mesh and microfiber for light weight and breathability, my feet didn't overheat in these babies.
This product preview is not especially fantastic when it comes to available colour options but there is a very nice white with blue strip PUMA v1.08 trainer made with the Azzurri, Italy national side in mind. For additional pictures see below. The v1.08 Sala is Super lightweight…super speed Gets you to the ball even faster.
Thanks goes out to the folks at

who shipped out this latest pair of indoor boots for Serie A Talk Review # 53.
If you want style, speed and function with your indoor soccer shoes, reach for the Puma Sala v1.08.
Browse the SoccerPro selection of Puma v1.08 i FG soccer shoes or check out the SoccerPro.com Soccer Shoes webpage and give it a once over they have all the soccer gear, youth soccer apparel and nike soccerballs you could want.
Additional Boot Images
Puma v1.08 Sala blk/dark shadow
Puma v1.08 Sala blk/wht
Puma v1.08 Sala wht/red
Puma v1.08 Sala wht/sv/blk