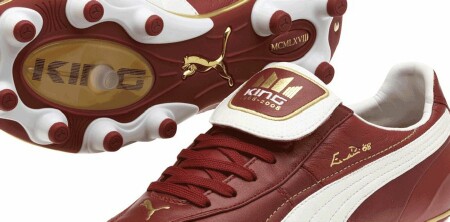 The King XL FG Ruby is a 40th year anniversary special edition boot, designed to commemorate the iconic career of the PUMA King boot line.
Based on the career of Eusébio (the Black Pearl), one of football's greatest players, the edition features the years "1968-2008″ below the King logo and comes in a red colour having two equally important origins; it is the traditional gem colour for a 40th anniversary and is the primary country colour of Eusebio's beloved Portugal.
The King is Born
The idea for the King boot was born after Eusébio scoring nine goals at the 1966 World Cup, worked with Puma to develop a signature football boot which debuted two years later. Over the years, the King became a legend and was worn by other legends including Brazil's Pele, Argentina's Maradona and Dutch maestro Johan Cruyff.
From PUMA literature, this newest addition to the Puma King range includes classic lines and traditional styling, but with updated materials, enhanced features and new design details. The King XL contains a lightweight TPU injected outsole with fixed moulded studs, suitable for use on firm and hard surfaces.
It also provides interior comfort utilizing the PUMA AptoLast design we took a look at during the
Serie A Weekly - PUMA v1.08 FG Speed product review
Aptolast features conform to the natural curvatures of the foot, offering an extreme all over snug fit. The boot also has a full grain leather upper which provides that traditional look.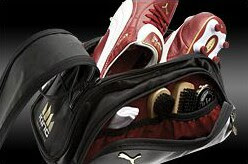 I liked the traditonal look and feel of this boot, it tends to be a bit bigger and heavier than several of the newer boots coming out this year but the all leather exterior creates a great feel and the stud design provides good footing on a wide variety of field conditions. (discovered that during testing) This is a limited edition boot so not too many to go around but if you aren't into the ruby red colour the King XL does come in a black edition.
Finally, the King XL ships with several extras including an all black leatherette King boot bag containing leather food, brush and polish cloth as well as an anniversary ruby booklet with the complete story of the PUMA-Eusebio connection.
Eusebio Snapshot
he scored 727 goals in 715 games

helped the Portuguese national team reach third place at the 1966 World Cup, being the top goalscorer of the tournament with nine goals

he won the European Cup with Benfica, scoring two goals in the final against Real Madrid CF

Eusebio was awarded the "Ballon d'Or" (Golden Ball) as European Footballer of the Year in 1965

awarded European Golden Boot award in 1968, 1973 (42, 40 goals)

was selected as the Golden Player of Portugal by the Portuguese Football Federation as their most outstanding player of the past 50 years
Additional pictures of PUMA King XL
PUMA KingXL - Ruby 40th Anniversary edition