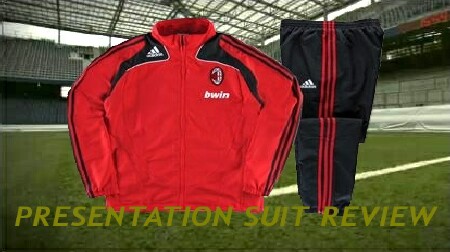 Adidas hit another high with the 2008-2009 presentation suit series, receiving a Serie A Weekly 9.0 product rating!!!
The Pros
I've had this suit for the last 2 months (courtesy of soccerpro.com) wearing it everywhere outside and inside the house. During my indoor training routine the suit's lightweight construction and formotion cut wasn't constrictive or caused me to overly perspire.
I was clearing snow from my driveway last several days, and surprisingly in -10 celsius weather the mesh lined pants/trousers stood up keeping me warm . The pre-suit is a very easy and enjoyable fit never mind an attention getter with those wanting your opinion on AC Milan.
Lets look at presentation suit details,
mesh lined jacket and mesh lined pants. The jacket has a funnel neck, contrasting panels, 3 stripe branding

frontal zip, pockets on sides, straight top and trousers bottom, bottom leg zips; Drawcord on elastic waistband,

Adidas brandmark on left thigh; embroidered Adidas logosembroidered AC Milan Club Crest on left chest and on right thigh, officially club licensed product

embroidered Rossoneri knick on the back collar (very nice, has that Ferrari feeling)
The Cons
This review would have been a 10 out of 10 if not for two drawbacks,
the price tag of ~$110 to $120US

the pants managed to do well in both cold and hot temperatures but the fabric doesn't look to be water repellent. Training in rainy weather would quickly become less enjoyable
Final Words
The Adidas AC Milan presentation suit comes in at least two colour variations (see pictures), and Adidas has also released versions of the suit for other club partners including, Chelsea, and Bayern Munich. If you are an active player, travelling fan or simply a couch potato wanting to support your team from home in comfort, take a look at the Adidas presentation suit or any of the other available SoccerPro.com training suits
If you are considering head wear consider the matching Adidas ACM Woolie. This gear comes in several additional club designs and has a price point of $15.00 to $20.00US and it's double lining has a softer fleece underside.
have all the soccer gear, youth soccer apparel and nike soccerballs you could want.