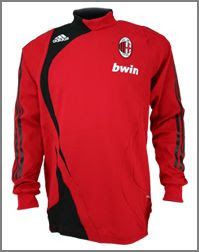 I was recently asked to test several Adidas products from the people at soccerpro.com and the first item I picked, a Clima365 AC Milan training jersey, has become my favorite.
First things, it's a officially licensed product so make your Rossoneri friends all want one. Secondly the long sleeve design is perfect for colder climates like fall and spring training. If you live in the northern latitudes like myself you'll know exactly what I'm talking about if not, I understand the jersey uses Adidas' patented ClimaCool feature for moisture control to maintain comfort as you overheat.
This week I've been wearing the jersey around the house enjoying how Adidas has incorporated an innovative stitch called FORMOTION which offers increased freedom of movement so no grabbing under the arms, neck or sides, it's extremely comfortable.
Thumbs up to Adidas and soccerpro.com another winner to add to your training kit or wardrobe.

If you want style, comfort and full motion with your training or casual soccer jerseys, checkout the Adidas AC Milan Long Sleeve Jersey or browse the SoccerPro selection of additional Adidas Clima365 team jerseys by cruising the available Training Jackets at,
SoccerPro.com Training Jackets
SoccerPro.com have all the soccer gear, youth soccer apparel and nike soccerballs you could want.
Additional Training Jersey Images
AC Milan Training Long Sleeve Jersey closeup #1
AC Milan Training Long Sleeve Jersey closeup #2