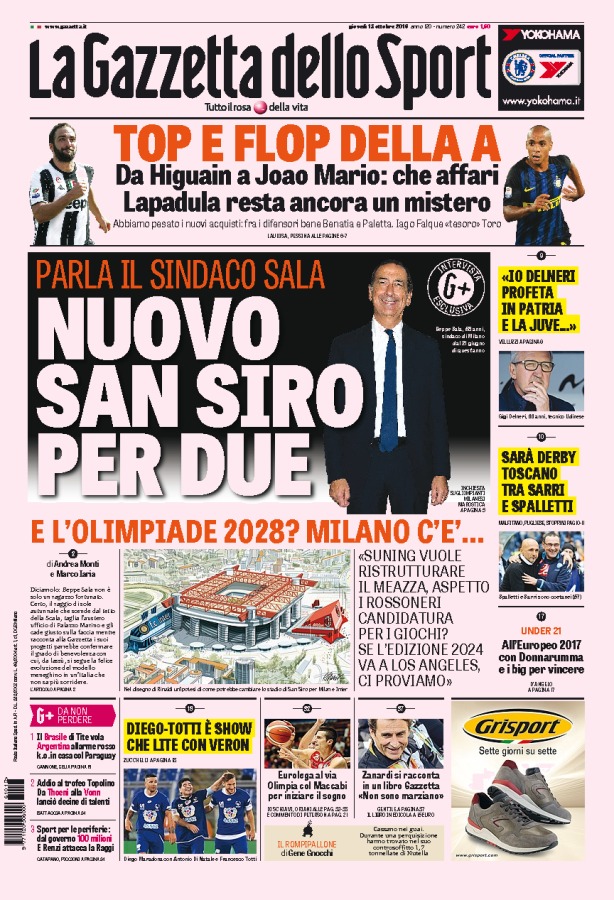 Gazzetta dello Sport

Napoli = Champions
21 years after Maradona, the Azzurri return to the European Cup
Scudetto gift? Hamsik is the candidate
Samp desperation, down to B after eight years. Palombo asks for forgiveness
Giovinco stops Juve. Chiellini harsh: "We've never been a team"
Corriere dello Sport
Napoli triumph!
The draw with Inter gifts 3rd place and the Champions League. De Laurentiis: "Mazzarri? I'm not willing to let him go".
Eto'o scores, Zuniga draws level: the San Paolo in delirium. The president on the future of his manager: "He has a contract in place for another two years, therefore…".
Juve revolution
Bianconeri KO against Parma brings to an end a failed season, as European competition fades away: everything will change starting with the manager.
Great Lecce, they win and survive
Sampdoria despair with tears and Serie B
Tuttosport
Excellent work
1. Out of the Champions League. 2. Eliminated from the Europa League with no win. 3. Defence KO. Just one goal less conceded than relegated Samp. 4. Second half of the season crisis: 26 points and 22 goals
Samp: Tears and Serie B
Mazzarri: 3rd place assured. Now Juve…