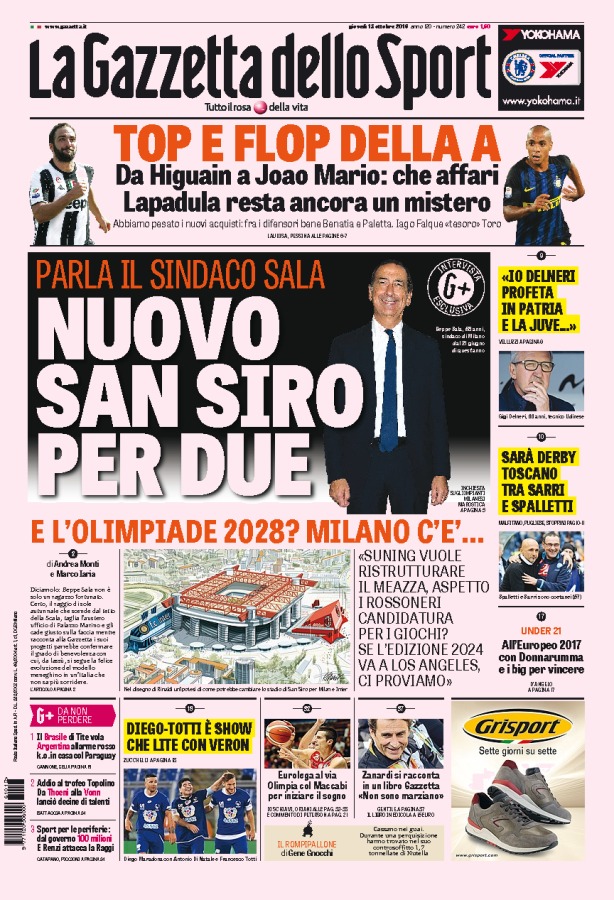 Gazzetta dello Sport
A Wasted Ibra
Zlatan Ibrahimovic's most spectacular career goals was not enough for Milan, who were pegged back 1-1 at Lecce
Good thing there is Del Piero
After two losses a shot in the arm for the Bianconeri still in emergency mode (2-1). A moment of magic from Alexandro and Aquilani punish Bari.
Barca make a break for it, Mourinho flops
The Catalans are Winter Champions. Kaka burned out, as Real Madrid draw against last place Almeria.
Lazio and Roma don't give up, Udinese flies
Kozak lays out Sampdoria. The giallorossi celebrate at Cesena in the 89th minute on an own-goal. Another show from the friulani: Marassi, 4 goals against Genoa.
Transfer News
Genoa leave Eduardo behind, Marchetti is arriving
Corriere dello Sport
Milan stop, everyone is on to you
Ibra is not enough, feat by Lecce (1-1). Lazio and Napoli at -4, Roma -6, Juve -7. And Inter…
Juve, goals and venom
Aquilani scores the 2-1 goal, then exploes: "We aren't worthy of Scudetto"
The fans insult Floro Flores on Facebook: "We don't want you"
Cagliari joy, Palermo fury
The Sardinians win 3-1. Zamparini angry over the first goal scored in offside: "Impossible not to see it"
Roma-Lazio head towards a grand derby
The giallorossi win at Cesena, the biancolesti return to second
An own goal sends Ranieri on his way but how many difficulties over Vucinic's sub. Reja wins thanks to goal by the young Kovak who is taken off the transfer market
Inter enchanted by the baby-Ramirez: "If you sell him we are ready".
Mourinho stops, Barca go on
Real with Kaka only get a 1-1 against Almeria. Villa great show. Premier: United first with City.
Crotone-Reggina, a match that's worth half of Serie A
All Calabrese confrontation in the late game of Serie B: at stake a place in the play-off (20.45h)
Tuttosport
Juve, what heart!
Bari (2-1) and the emergency beaten but reinforcements are needed. Del Piero and Aquilani are the architects of a victory that is key in terms of moral and the standings. Now the bianconeri are within three points of second place. Sissoko will no longer be sold.
Floro Flores, the signing
Today Floro Flores belongs to Juventus. Next Luis Fabiano?
Olivera freezes Milan
Ibra show at Lecce, the ex-Juve player replies
Lazio sores thanks to Kozak , team returns to second place
unlikely Kozak scores the an 84th minute winner against Sampdoria to keep Lazio ahead of their city rivial Roma and leapfrog Napoli into second, 4 points from the summit.
Lucky Roma win at Cesena amongst controversy
Claudio Ranieri avoid calamity with fans after Simplicio nabs winner in final moments after substitute Borriello hits the crossbar. However the manager was not without fault or question after allowing Francesco Totti to play the entire match on a poor performance while choosing to substitute both Menez and Vucinic in the 81st minute